How to Install a Flat Bottom Vessel Sink
A vessel sink is meant to sit on or above the countertop, rather than sinking into it like a traditional bathroom sink. Vessels come in many shapes and sizes, including those that are rectangular or square in shape with a flat bottom.
A vessel sink with a flat bottom will make contact with the vanity all along its bottom, with the drain hole in the vessel lining up with the drain hole in the vanity. This drain, along with some adhesive, will hold the flat-bottomed vessel in place.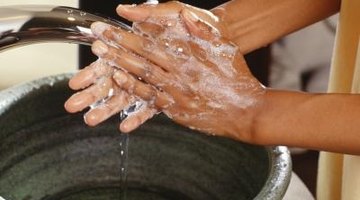 Wipe down the top of the vanity around the drain cutout with a damp cloth. Remove any dust or debris that could upset the seating of the sink. Wipe down the bottom of the sink as well, and let both areas dry.

Test the fit of the vessel on the counter. Line up the drain holes of the vanity top and the vessel and straighten the sink out so it lays evenly. If the sink is rectangular and square, check to make sure the front of the sink is parallel to the front of the vanity top. Make a mark on the vanity top in grease pencil where the sink will be installed so you can find this placement again.

Remove the sink from the vanity top and set it aside. Squeeze a line of silicone caulk adhesive around the drain cutout, and a second line near the perimeter of where the sink will be located. Lift the sink up above the vanity and line it up with the grease pencil mark. Carefully lower the sink into place.

Drop the tail piece of the drain through the two drain holes and use a pipe wrench to connect the tail with the P-trap of the drain extending out from the wall.

Wipe away the grease pencil mark with a damp cloth.
References
Writer Bio
Sarabeth Asaff has worked in and has written about the home improvement industry since 1995. She has written numerous articles on art, interior design and home improvements, specializing in kitchen and bathroom design. A member in good standing with the National Kitchen and Bath Association, Asaff has working knowledge of all areas of home design.
Photo Credits
Steve Mason/Valueline/Getty Images
More Articles