How to Attach Paneling to a Concrete Wall
Concrete walls are dull and boring. If you are trying to fix up an area such as a basement, you should consider adding paneling to the walls to cover up this drab look and bring some color and style into the area.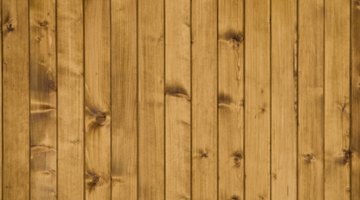 Attaching the panels to the wall is a simple process that requires only a few supplies and about a half-day's time.
Glue wood strips to the walls at the top, bottom and in the corners. You can also use masonry screws and drill them into the walls. Cut the wood strips with a circular saw if necessary to fit the wall length or height.

Snap chalk lines from the top strips to the bottom strips every 16 inches. Install wood strips on the lines.

Cut foam board insulation to fit between the wood strips. Use a knife to do this. Glue the foam in place, or if tabs are attached to the foam, you can staple them to the wood strips.

Cut a piece of paneling to fit the height of the wall minus 1/2 inch. The shortened height is so there will be a small space at the bottom. Cut the width of the paneling if needed so that each side is resting on wood strips. Typically, the paneling will span across three strips.

Spread wood glue on the wood strips that the paneling is going to cover.

Place the paneling on the wall over the glue after a few minutes. You must wait for the glue to get tacky before you lay the paneling on it. Be sure to place the paneling all the way to the ceiling and leave the gap at the bottom. Press the paneling down the height of the wall to secure it.

Tack a wood trim piece at the bottom of the wall to cover the gap.
Things You Will Need
Wood strips
Foam insulation
Knife
Circular saw
Measuring tape
Drill and masonry screws
Wood glue
Tip
Cut out holes for outlets and vents. Use a measuring tape to locate where the hole should be and use a fine tooth jigsaw to cut out the opening. Some panels have insulation on the the back of them, and there is no need to install the wood strips. This type of paneling is screwed directly into the concrete walls.
References
Writer Bio
Tara Dooley has written for various websites since 2008. She has worked as an accountant, after-school director and retail manager in various locations. Dooley holds a Bachelor of Science in business management and finance.
Photo Credits
Jupiterimages/Photos.com/Getty Images
Jupiterimages/Photos.com/Getty Images
More Articles