The Standard Size of Milgard Windows
Milgard Windows and Doors specializes in products that let light into homes, from replacement windows to patio doors. Milgard window frames are available in a variety of materials, from vinyl to wood to fiberglass and can be customized to fit with the climates across the U.S.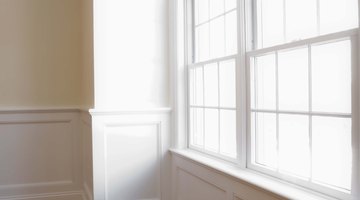 Milgard
Milgard began in 1958 in Tacoma, Washington, as Milgard Glass Co, according to the company's website. Milgard makes its own insulated glass, vinyl components and fiberglass frames. Masco Corp. bought Milgard in 2001. Today, Milgard has manufacturing and sales locations across the Western U.S., including Oregon, Nevada, California, Colorado, Utah and Arizona.
Custom Windows
Milgard makes each window to order, so it does not have standard sizes. However, while the windows are custom-made, minimum and maximum sizes exist that the company can accommodate.
Vinyl Window Sizes
Milgard makes many types of vinyl windows. In the Tuscany style, double-hung windows, for example, come in a minimum size of 1 1/2 by 2 1/2 feet and the maximum is 4-by-7 feet. The Montecito horizontal window ranges from 2-by-1 1/2 feet to 6-by-6 feet. The Style Line picture window ranges from 1-by-1 feet to 8-by-6 feet.
Fiberglass Window Sizes
Fiberglass window frames resemble traditional painted wood, but because they are made of glass fibers they can contract and expand at the same rate as the glass they hold. In the Ultra series of double-hung windows, for example, the minimum size is 1 1/2-by-2 1/2 feet and the maximum is 4-by-7 1/2 feet. The WoodClad series picture window ranges from 1-by-1 feet to 8-by-6 feet.
References
Writer Bio
Barbara Ruben has been a journalist for over 25 years. She has written extensively for the "Washington Post" and served as editor for an international health-care magazine and a group of newspapers for older adults. She earned a master's degree in journalism from Indiana University.
Photo Credits
Jupiterimages/Creatas/Getty Images
Jupiterimages/Creatas/Getty Images
More Articles