The Volume of a Wheelbarrow
Wheelbarrows are useful for yard work and construction. They conveniently hold and carry materials and can generally be lifted and pushed on a single wheel by one individual. The size and volume of wheelbarrows vary, but they rarely hold more than 10 cubic feet.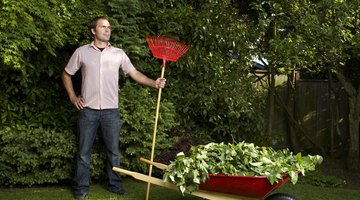 Dimensions
A wheelbarrow typically has a volume of about 8 cubic feet and weighs about 55 pounds when it's empty. These wheelbarrows are about 65 inches long, 30 inches wide and 30 inches high.
Conversions
The cubic footage of a wheelbarrow can be important when you plan to move solid material such as dirt and leaves. But a well-sealed wheelbarrow can also be used to carry liquid such as water or compost tea, which is more easily measured in gallons or liters. The average 8-cubic-foot wheelbarrow can hold about 60 gallons or 227 liters.
Weight
Weight is an important consideration for a wheelbarrow, whether moving liquids or solids. A wheelbarrow with the volume of 8 cubic feet will hold about 460 pounds of water or about 1,200 pounds of concrete. But weight is also an important consideration for the wheelbarrow user. To avoid injury, never overload your wheelbarrow in terms of weight, even if it means the wheelbarrow is not entirely full.
References
Writer Bio
Kim Fuller has been writing food and lifestyle features since 2007. She now lives in Vail, Colo., after spending one year traveling Europe. Fuller is a regular contributor to Gaiam Life, an online fitness and wellness publication. She holds a Bachelor of Science from the School of Journalism and Mass Communication at the University of Colorado in Boulder.
Photo Credits
John Keatley/Digital Vision/Getty Images
John Keatley/Digital Vision/Getty Images
More Articles