How to Make a Stone Cairn
Learn how to make a stone cairn to enhance your garden, lawn, or outdoor space. Celebrate the serene beauty of these stone towers indoors or outdoors.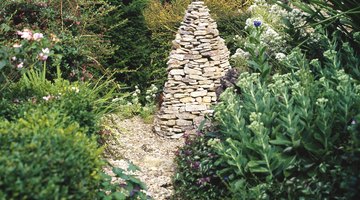 Around for centuries, the art of stone piling, otherwise known as the building of stone cairns, has been prevalent throughout the world. Thought to have originated in Scotland, the meaning of the cairns is debatable. Some think they were used as grave markers, others as a means of keeping the dead under the ground. Modern cairn builders have different and clearer motives. Some hikers use cairns to mark a trail, while mountain climbers bring a rock down from on-high as a token to Mother Nature at the end of their journey. Today's cairn enthusiasts celebrate the grace and serene beauty of these stone towers and use them both as garden monuments and as indoor decor as well. You can purchase stone cairns from fine interior shops to help enhance a meditative space and bring supposed good luck for upwards of $50, but you can make one yourself quite easily for nearly nothing.
Tip
Display your cairns in groups of three or five for drama. Light with a small uplight at night to enhance the effect of the balancing stones.
Warning
Don't display cairns in areas where small children or small dogs play or are likely to knock them over.
Gather your stones. This is a great excuse to get out into nature to gather up a variety or colored and shapes rocks for your cairn. Head to a local lake or pond to find nicely smoothed and rounded rocks, or head for the woods for a more ragged variety. Whatever is available near you will be fine for a stone cairn.

Clean off the rocks you have collected. Rinse off your rocks with clear water and scrub lightly to rid the stones of dirt and bugs. If your rocks are really dirty, fill a bucket with warm water and soak them until clean.

Select a variety of colors if possible and sizes. Layout the rocks you have collected and pull out anywhere from three to seven rocks depending on size. For your first cairn, start off small so that you can play with the shape without a lot of trouble balancing or gluing rocks.

Begin piling up. The beauty of the cairn is in the balancing of the rocks. For a natural cairn no glue will be used, so play around with the shapes and balances of your stones. Build your cairn where you will display it so that you don't need to disassemble it later.

If necessary, use hot glue or epoxies to spot glue cairns. Once you get the hang of building a cairn, try to create taller and more balanced towers. You may need or want to use hot glue or epoxy appropriate for concrete and stone.