How to Design a Plant Nursery
Plant nurseries are pieces of land where a variety of plants and flowers are grown, much like a garden, only the plants are grown to be sold. When designing your nursery, you can enlist the help and consultation of a land architect. A land architect can help show you where things such as greenhouses and walking areas should be placed in order to attain the most desirable flow of business. Aesthetic appearances--such as well-kept pathways and symmetry in plant display--are key when planning a nursery to garner more business.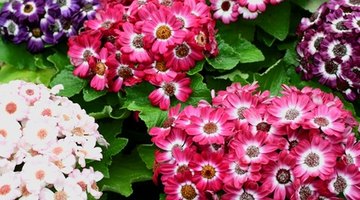 Draw a rough sketch--with a ruler, pencil and paper--of your property where you want the nursery to be. This will give you the layout, space and shape of the area you have to work with.

Draw out the kind of watering system you want to have in place in your nursery. If you wish to have underground pipes that water the soil, these will need to be carefully placed in the areas where you wish to have your plants and flowers.

Sketch out the areas of land where you have open sunlight to plant or display direct-sunlight plants and greenhouses. These pieces of land need to be laid out in a symmetrical shape such as a square or rectangle for the best aesthetic appearance.

Plan your greenhouse around the plants and flowers inside that will be displayed on tables. The ground should be a hard surface--such as brick or concrete--so that you can keep it free of mud and dirt with squeegees and industrial brooms after watering your plants. The greenhouses will be extremely humid, so include in your sketch where you will situate your fans, whether standing fans or industrial fans placed in the walls of the greenhouse.

Draw where you want your walkways to be, how wide they will be, and what they will be made from. Generally, it is common to have a main walkway that is wider than all the other walkways, and then smaller paths extend out from the main walkway to take you to different sections of the nursery.

Try to keep all of the same types of plants together. For example, keep all perennial plants together and all annual plants together. This provides organization, and you can easily direct your customers to the right place.

Draw in any large pieces you wish to place in your nursery aside from greenhouses--like fountains or ponds. Some nurseries have large statue fountains in the middle of the main walkway to provide a peaceful and beautiful focal point to the nursery.

Sketch in an area for the main building to be where you can set up gardening supplies for sale, decorations, and a place to check out. You may also want to include an office to keep all things nursery related.
References
Tips
It is strongly recommended to employ a land architect, especially if this is your first time planning a nursery. They can provide you with essential details like estimated costs of construction, aesthetic appearance and referrals to businesses that can help you build your dream plant nursery.
Photo Credits
More Articles