How to Install River Rock on a Fireplace Surround
River rock lends a natural appeal when used as part of your home decor. It is often seen in camps or cabins, but is increasingly used in people's homes. River rock is easy to find at home and garden stores, hardware stores and even some nurseries.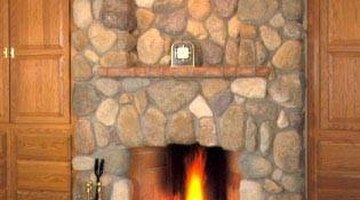 You need a few simple tools and basic skills to incorporate it into your own home. One way to do this is to install it on your fireplace surround.
Things You Will Need
River rocks
Mortar
Trowel
Chicken wire
Wire cutters
Damp cloth or sponge
All-purpose household cleaning solution
Drop cloth
Staple gun
Measure your fireplace surround. Give the dimensions to a clerk when you go to buy the river rock and she will be able to calculate how much rock you'll need. The clerk will also tell you how much mortar mix and chicken wire you'll need.

Prepare the area where the river rock will be installed. Wash and dry the surface thoroughly using an all-purpose cleaner. Cover any adjacent areas with a drop cloth to avoid messes.

Using wire cutters, cut the chicken wire to the dimensions of the fireplace surround. Affix the chicken wire to the surround with a heavy-duty staple gun.

Mix the mortar according to package directions. Spread a thick layer over the chicken wire with your trowel. Set your river rocks in place and press firmly. Holding the rocks securely in place for about a minute each should allow the mortar to "take" and enable you to move on to the next rock. Larger rocks might require a half minute to a minute longer before letting go. This is sometimes best done as a two-person job, so that one person can firmly press on a couple of the rocks, while the next person starts attaching additional ones. Allow the mortar to dry for about 12 hours before using the fireplace.

River rock looks best in a decor inclusive of natural elements. Wood, slate and additional stone accoutrements will serve to enhance the look of the new surround facing.

Clean your river rock fireplace surround as you would most any surface. A solution of soap and water, or an all-purpose cleaner such as Pine-Sol or Mr. Clean works well. In most cases, a thorough dusting with a soft cloth or feather duster will keep your river rock fireplace surround looking new.
Resources
Writer Bio
Kimberly Ripley is a freelance writer and published author from Portsmouth, N.H. She has authored five books and hundreds of articles and short stories. Her work has appeared various publications, including "Parenting," "Writer's Digest," "Vacations" and "Discovery Travel." She studied at the University of Maine and later pursued her writing studies through numerous classes and workshops.
Photo Credits
http://www.rumford.com/images/rumfordstone1.jpg, http://www.allaboutmasonry.net/images/stone.jpg
http://www.rumford.com/images/rumfordstone1.jpg, http://www.allaboutmasonry.net/images/stone.jpg
More Articles