How to Rock the Skirting Around a Mobile Home Using Real Rock
Decorating mobile home skirting with natural rock can be done if the the skirting is wood or there is a wood frame around the bottom and top of the skirting. This is necessary to hold the wire that in turn holds the rock facing. If your mobile home skirting is fiberglass or plastic, this process will not be successful.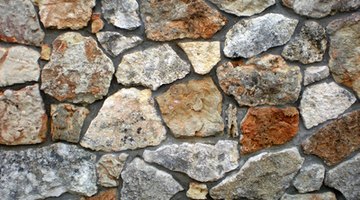 There is nothing to attach the screening to and the material is not strong enough to support the weight of the stone.
Things You Will Need
Small gap gauge, heavy chicken wire
Tape measure
Wire cutters
Hammer
U hooks, 1/2 inch
Mortar
Trowel
Flat rock (no more than 1 inch thick and 8 inches in length)
Gap scraping tool
Measure the length and height of the area where you are going to place the rock facing. Cut the chicken wire to the measurements.

Nail the chicken wire onto the wood skirting using the U nails along the top and the bottom and no more than 12 inches apart.

Mix the mortar with water to the consistency of toothpaste and apply to the chicken wire with the trowel . It should be about an inch thick to support the weight of the stones. Place the stones against the mortar and push. Continue this process until the whole skirting is covered. To add to the effect, do not place the stones too close together.

Scrape the gaps between the stones with the gap scraping tool. Do not go deeper than 1/8 of an inch on the stones; remove the excess that is hanging over the stones.
References
"Homeowner Basics (Black & Decker Complete Photo Guide)"; Jodie Carter, Matthew Palmer, Steve Wilson, and Jerri Farris; 2008
Writer Bio
Philip Powe started writing in 1987 for St. Louis area newspapers. He has since written for "St. Clair County Historical Society Journal" and the "American Association of State and Local Historians Journal." Concentrations are in home and garden, philosophy and history. Powe holds a Master of Arts in intellectual history from Southern Illinois University.
Photo Credits
structure, stone, wild stone image by Oleg Guryanov from Fotolia.com
structure, stone, wild stone image by Oleg Guryanov from Fotolia.com
More Articles