How to Make Floral Candle Rings
Floral candle rings are often used to decorate for special occasions and events, such as weddings, anniversary parties or the holidays. Buying store-bought rings can cost a pretty penny though, and they may not be available in the color and style of flowers that you want, so making them at home is a good alternative.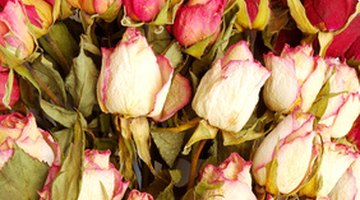 Since these floral candle rings require very few supplies and craft know-how, they can be put together for only pennies with relative ease.
Cut a piece of floral wire, 18 to 22 gauge, to a length that is twice the size of the candle's diameter. Form the wire into a circle and twist the ends together to secure it.

Wrap the wire with green floral tape, covering it completely. Wrap the tape around two to three times, creating a thick layer over the wire. This forms the base for the floral candle ring.

Select dried rose buds, daisies or any other type of small dried flower. Cut the stem so it is flush with the underside of the flower head.

Hot glue the flower heads over the floral tape, covering it completely. Add some leaves, dried baby's breath, or other greenery in between the flowers if desired. Let it dry.

Set the floral candle ring on a small plate or even a plastic lid no larger than the ring. This is used to catch any wax that may drip when the candle is lit. Insert a pillar candle in the middle of the ring. Repeat steps 1 through 5 to make as many floral candle rings as needed.
Things You Will Need
Floral wire
Green floral tape
Dried flowers
Hot glue
Silk leaves
Dried baby's breath
Small plate
Pillar candle
Tip
Silk flowers can be used in place of the dried flowers.
Warning
Do not set the floral candle ring with the candle directly on a table in case the candle drips wax when lit.
References
Writer Bio
Amy Hannaford teaches childbirth education classes and a healthy pregnancy series in Southern Oregon. Hannaford holds an Associate of Arts degree, a certificate in medical assisting, and has been a childbirth educator and birth doula for 20 years. She has been writing articles for Demand Media since 2008.
Photo Credits
dried roses image by Olga Shelego from Fotolia.com
dried roses image by Olga Shelego from Fotolia.com
More Articles