Steps in Table Skirting
Table skirts offer more coverage than typical tablecloths that leave the legs and space under the table exposed. They are an inexpensive solution for covering weathered, damaged or unattractive tables. From start to finish, a lot of work goes into making table skirts to custom-fit table sizes and shapes.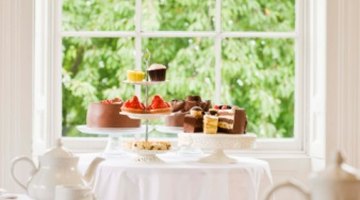 Material
Table skirts can range from formal and decorative to simple and casual, depending on the fabric you choose. Satin, embroidered upholstery fabric and bright white fabric of any material usually creates a more formal look. Floral patterns, neutral cottons, and solid or patterned polyester fabrics can be used for everyday table skirting that can be washed as needed and requires little upkeep.
Measuring
Measure your table from the floor on one side to the floor on the opposite side with a tape measure. If your table is circular or square, this is a sufficient measurement. If your table is rectangular, measure the other way across from the floor on one side to the floor on the opposite side. This will give an accurate size for the amount of fabric your table skirting requires.
Preparation
Mark your fabric with fabric chalk, according to the measurements you took of the table, adding 1/2 inch to each side. To create straight lines, use a straightedge or yardstick. To create a circular line, pin one end of a string that is half the length of the circular table measurement to the center of the fabric, and tie a piece of chalk to the other end. Press the chalk onto the fabric and draw a circle by rotating the string around the center where the other end of the string is pinned in place. Cut the fabric along the chalk lines with sewing scissors.
Finishing
Fold the edges around the table skirt 1/2 inch, and pin them in place all the way around with straight pins to prepare to sew a hem. Sew along the hem by hand with needle and thread or with a sewing machine, using matching thread to finish the table skirt, then remove the pins. Consider adding braided trim, lace or beading for an extra decorative touch. Center the finished skirt over the table and adjust the bottom so that it touches the floor all the way around.
Writer Bio
Ashley Kurz, a full-time professional writer since 2009, publishes on various informational websites. An expert in the craft field specializing in craft-related topics, Kurz has taught arts and crafts for group therapy sessions.
Photo Credits
Jupiterimages/Polka Dot/Getty Images
Jupiterimages/Polka Dot/Getty Images
More Articles