How to Clean White Plastic Outdoor Furniture
Over time that white plastic outdoor furniture you have sitting out on your deck or patio may begin looking dirty, dingy and even moldy. Although the white resin furniture will resist some staining, it will not stay clean indefinitely unless you wash it.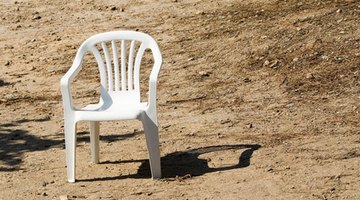 Gather the materials you need to clean the furniture and get busy restoring your white outdoor furniture to its former clean condition. With regular maintenance, you can keep your furniture looking white and clean.
Fill the bucket with warm water and place approximately 1/2 cup of baking soda into the small bowl.

Line the chairs up in an outdoor location, such as a driveway, where you can work on them. Spray the chairs thoroughly with the garden hose to dampen all surfaces.

Dip the mesh sponge into the bucket of water and then into the baking soda in the small bowl. Apply the baking soda to the lawn furniture and rub it in well with the sponge. Continue applying more baking soda to the chairs with the sponge, rubbing over every surface to remove dirt and mildew.

Spray the chairs again with the garden hose to rinse away the baking soda. Allow the chairs to dry in the sunlight.
Things You Will Need
Bucket
Baking soda
Small bowl
Garden hose
Mesh sponge
Dishwasher detergent
Tip
Another cleaning option involves filling a bucket with warm water and adding 3 tbsps. of dishwasher detergent. Mix the water and detergent well, then apply it to the chairs with the mesh sponge. Allow the detergent mixture to sit on the chairs for approximately 15 minutes and rinse the chairs with the hose.
References
Writer Bio
Kathryn Hatter is a veteran home-school educator, as well as an accomplished gardener, quilter, crocheter, cook, decorator and digital graphics creator. As a regular contributor to Natural News, many of Hatter's Internet publications focus on natural health and parenting. Hatter has also had publication on home improvement websites such as Redbeacon.
Photo Credits
chair1 image by Cristiano Ribeiro from Fotolia.com
chair1 image by Cristiano Ribeiro from Fotolia.com
More Articles