How to Remove Smell From Burlap Fabric
Burlap is a type of jute fabric that is used for multiple purposes, such as bags, crafts, mats, curtains and even clothing. Burlap is a popular fabric choice because it is durable and inexpensive. If you have burlap fabric that acquires a foul odor, you must take care in treating the fabric.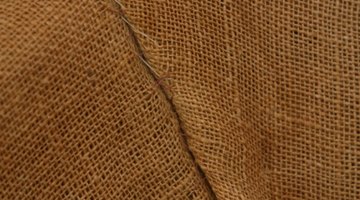 Washing some burlap fabrics in a washing machine can distort them severely. With a little work and some gentle cleaning products, you should be able to rid your burlap of any unpleasant smells.
Place the burlap in a well-ventilated, dry area outdoors. Let the fabric air for several hours.

Sprinkle some baking soda onto the burlap and let it sit for an hour.

Shake out the baking soda and check for any lingering odors.

Soak the burlap in white vinegar for 30 minutes if you still detect an odor.

Rinse the burlap with water and spread it out to dry.
References
"How the Queen Cleans Everything"; Linda Cobb; 2002
Writer Bio
Charlotte Johnson is a musician, teacher and writer with a master's degree in education. She has contributed to a variety of websites, specializing in health, education, the arts, home and garden, animals and parenting.
Photo Credits
Photos.com/Photos.com/Getty Images
Photos.com/Photos.com/Getty Images
More Articles