How to Remove Calcium Stains From a Glass Shower Door
Mineral deposits from hard water leave ugly stains wherever they build up. Bathtub and shower surfaces are particularly susceptible to calcium deposit stains due to consistent exposure to hard water. Removing calcium deposits and other hard water stains doesn't have to feel like a losing battle.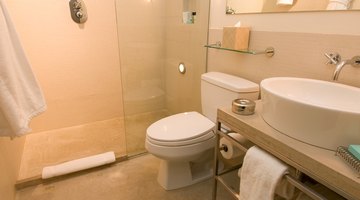 You can get rid of the unsightly white film and scale buildup with supplies found readily around the home. Combine effective supplies with the proper cleaning methods so you can get clean and clear glass shower doors without scratching or damaging the surface.
Things You Will Need
2 lemons
Knife
Table salt
Paper towels
Dryer sheets
Tip
Clean the glass with full-strength vinegar to get rid of calcium stains. Follow up by buffing the shower doors with olive oil to prevent the stains from building up again. Lemon juice and salt are also effective for rusty water stains in the shower. Keep a spray bottle of 50 percent lemon juice and 50 percent water near the shower. Spray the doors twice each week to keep hard water stains at bay. Leave the juice solution on the doors for two minutes, then rinse off with water.
Warning
When using commercial hard water stain removers, open a window in the bathroom to circulate air and get rid of strong chemical fumes.
Cut two lemons in half with a knife. Sprinkle each open half with table salt.

Scrub the surface of the glass shower door with the lemon and salt. Start at the top of the glass door, and work your way down. Squeeze the lemon as you scrub to get juice on the glass. Change to another lemon half as needed.

Leave the lemon juice and salt mixture on the glass surface for 10 minutes.

Wet a paper towel with water, and wring out the towel so it's damp. Wipe the glass shower door to remove the lemon juice and salt mixture.

Dry the shower door surface with paper towels.

Rub an unused dryer sheet over the surface of the shower door. Buff the glass to remove the last traces of calcium deposits and white film.
References
Resources
Writer Bio
Mary Ylisela is a former teacher with a Bachelor of Arts in elementary education and mathematics. She has been a writer since 1996, specializing in business, fitness and education. Prior to teaching, Ylisela worked as a certified fitness instructor and a small-business owner.
Photo Credits
Jupiterimages/Photos.com/Getty Images
Jupiterimages/Photos.com/Getty Images
Hemera Technologies/AbleStock.com/Getty Images
Photos.com/AbleStock.com/Getty Images
More Articles