How to Get Rid of a Ring Around the Toilet
A ring around the toilet can give the entire bathroom an unclean feeling. These rings are usually the result of hard water, which has a high content of magnesium and calcium, and can leave nasty stains and residue on everything it touches.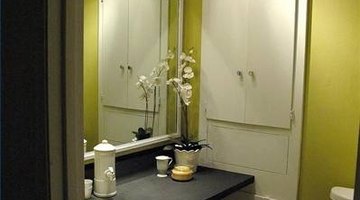 These difficult stains seem near impossible to remove with ordinary cleaners and require special attention. Fortunately there are several proven methods that can eliminate a toilet ring from your toilet.
Things You Will Need
Pumice stone
Baking soda
Bleach
Mr. Clean Magic Eraser
Cola
Denture tablet
Vinegar
Soak a pumice stone in water for at least 15 minutes. Dip the stone into some baking soda and use it to scrub away the ring.

Pour 1 cup of bleach in the toilet and allow it to sit overnight, without flushing. In the morning if there is any stain left, scrub the toilet with a toilet brush.

Dampen a Mr. Clean Magic Eraser and scrub the ring away.

Pour a can of cola in the toilet and allow it to sit at least 2 hours. Scrub the area with a toilet brush and flush. The acidity in the soda will eat up the minerals that cause the ring. Diet soda will not work.

Drop a denture tablet, such as Efferdent, in the toilet and allow it to sit for at least 20 minutes. As it bubbles, it will eat away the stain.

Pour 1 cup of vinegar in the toilet at least once a month to help prevent the ring from coming back.
Writer Bio
Melynda Sorrels spent 10 years in the military working in different capacities of the medical field, including dental assisting, health services administration, decontamination and urgent medical care. Awarded the National Guardsman's Medal for Lifesaving efforts in 2002, Sorrels was also a nominee for a Red Cross Award and a certified EMT-B for four years.
Photo Credits
sliceoflife.toldbyme.com
sliceoflife.toldbyme.com
More Articles