How to Make London Shades
The london shade brings a look of relaxed softness into your home, offering a traditional cottage feel. Although london shades are typically used as valances, they are quite versatile and can be lowered for privacy purposes while still maintaining the shade's signature billowy look.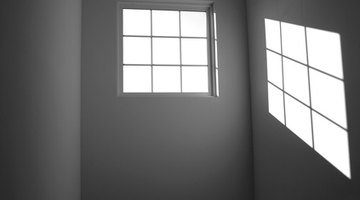 They're suitable for any room in the house; select a fabric color or pattern that compliments your furnishings.
Making Your London Shade
Measure the area--width and length--you desire for your london shade. Remember that if you're installing your london shade within the window frame, you should subtract half an inch from the width to assure that the shade can raise and lower without rubbing against the sides of the frame. You should buy enough fabric to allow for the shade's signature pleats and folds: on the width, four inches of side seams (two inches on each side) plus another 24 inches for the pleats; on the length, another nine inches for the hem top attachment plus another 18 inches for the permanent bottom pleats.

Cut out your fabric to the proper size.

Spread the fabric out, face down. Then fold the side edges in one inch and press with an iron. Fold the fabric in another inch and press, then stitch it down, using either a straight stitch or a blind hem stitch. Turn the fabric right side up and spread it out flat again.
Making Your Box Pleats
Begin making the box pleats at the top of the fabric by measuring in from the side edges the desired distance that you would like the pleats to be, and then adding another six inches. For instance, if you would like your box pleats to be 10 inches from the edges, you would measure from the edge 10 inches plus an additional six inches and then mark both spots with pins. Note that in order to achieve a lovely swag on your london shade, you need at least 15 inches between the box pleats.

Measure from the second mark you made in the previous step another six inches and then mark that spot accordingly.

For each pleat, fold your panel so that the first and third marks you made meet at the second mark, which will create an inverted box pleat. Pin your pleat securely. It may take a few tries to get your pleat to run the length of the fabric.

Measure from one side edge to the other, assuring that you have the finished width. If necessary, continue to adjust your box pleats until you meet the finished width. Iron the panel to hold the pleat shape.

Fold the bottom edge of the fabric under three inches and press. Fold it under another three inches and press again. Sew the bottom hem with either the straight stitch or blind hem stitch.
Setting Up Your London Shade
Use the center of the box pleats as a guide, measure up three inches from the bottom and mark this with a pin. Continue to measure up, marking every six inches with a pin. You will notice pins running up through the center of your box pleats.

Sew a shade ring at each pin. Staple down the top edge of your london shade on a dust board, assuring that the distance from the top edge of the dust board to the bottom edge of your london shade comes out to be the finished length plus 18 inches.

Install a screw eye for each column of rings on the dust board and place a cord lock on one side. Take the bottom three rings of each box pleat and tie them together with a lift cord, then thread the cord through each shade ring up the column. Then, thread each lift cord through its matching screw eye and over to the cord lock.

Install your dust board to either the window or the wall.

Decorate your lift cords with a cord drop and cord cleat.
Things You Will Need
Sewing Machine
Needle
Face fabric
Matching thread
Roman shade rings
Roman shade lift cord
Screw eyes
Cord lock
Dust board
Angle brackets
Cord drop
Cord cleat
Tip
Note that there are many versions in styling your desired london shade and that you're not restricted to one look. Consider lining or interlining your london shade for a more interesting effect. Try experimenting by adding a fabric with a contrasting color within your box pleats. Remember to add piping along the edges of your box pleats if you do try out this method. Consider attaching a tassle fringe along the shade's bottom edge.
Warning
To achieve your desired shade look, especially with near perfect pleating, expect a little trial and error before getting it right.
Remember to remain patient when designing your own window treatments because it will require some time and effort.
References
Writer Bio
Lauren Baluyo graduated from The Fashion Institute of Technology with a B.S. in advertising and marketing communications, and studied journalism at New York University. She has over five years of fashion experience working for "ELLE Magazine," Creative Contrast, Albright NYC and the Daily Mirror. Currently, Baluyo is a contributor to SoCal Fashion Updates blog whilst managing her own style blog, Little Fashion Bird.
Photo Credits
A shadow of a window cast on a wall in black and white image by David Smith from Fotolia.com
A shadow of a window cast on a wall in black and white image by David Smith from Fotolia.com
More Articles