How to Measure for a Window Valance
A valance hangs across a window's top, frequently covering the upper one-third to one-fourth of the glass. Though valances don't provide privacy, they soften the look of bare windows and those covered with shades or blinds.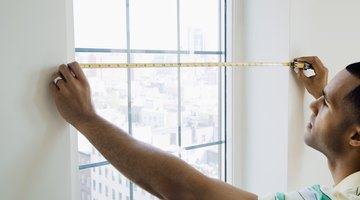 Combining a valance with curtains or draperies frames the window, hides utilitarian hardware and gives the treatment a finished look. The right way to measure for a valance depends on the valance type and where you plan to mount it.
Things You Will Need
Measuring tape
Pencil
Paper
Warning
A valance's finished width and length are its actual dimensions once completed, but before installation.
If you're sewing your own valance, add the hem and heading allowances recommended by your pattern or instructions to the finished length before cutting your fabric. To the finished width, add the appropriate allowances for side hems, seams, pleats, darts and any mounting board returns.
Inside-Mounted Valances
Measure the width of the window opening from the inside left of the frame to the inside right. Note the result as the finished width for flat and pleated valances or the installed width for valances you gather on inside-mounted rods, such as tension rods.

Multiply the installed width of a gathered valance by 1.5 to 2.5, depending on the fullness you want, for its finished width before installation. Opt for maximum fullness for lightweight valances and the lower end of the scale for heavyweight versions.

Measure down from the inside top of the window frame to the position on the glass where you want the valance to end. Note the distance as the valance's finished length.
Outside-Mounted Valances
Measure the width of the window, including any molding that makes up its frame, and add two inches. For a valance you'll hang over curtain or drapery panels, add two inches to the combined width of the installed panels instead.

Measure your valance rod's projection, which is called the return, from the front of the rod to the back edge of one of its brackets. If you've already installed the rod, measure from its face to the wall. Double the return and add it to your total from Step 1. Skip this step if you're using a board-mounted valance or hanging a rod-pocket version from a pole rod with finials.

Multiply the total from Step 2 -- use the total from Step 1 if Step 2 doesn't apply to you -- by 1.5 to three for gathered valances, depending on your desired fullness. For valances designed to swag between tabs, ties or rings, multiply by 1.5 to two instead. The final total applicable to you from Steps 1, 2 and 3 is your finished valance width.

Measure down from your proposed rod or mounting board location to the spot where you want your valance hem to fall. Note the distance as your finished valance length.