How to Measure the Size Needed for a Valance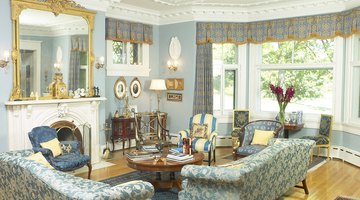 Valances provide a finishing touch to your windows that demonstrates your extra attention to details. A window framed with a valance often incorporates other layers of window treatments beneath the valance. It's essential that you acquire an accurate valance measurement, especially when the measurement is influenced by other elements, including existing or future window treatments on the same window opening. Other factors to consider include the overall valance height and desired placement in relation to the window.
Style Decision
To accurately measure for a valance, you must first determine which valance style you will use. Certain valances styles, such as balloon and festoon valances, may require extra clearance on the sides for fabric fullness. When space is limited, you can mount simple styles like box-pleated, tent-fold and Roman-style valances on a board and install them inside your window opening. Ornate valance styles include the use of decorative rods and side cascades. Customize cornices, which are often used as valances, with decorative cords and trims.
Special Applications
If you are measuring for multiple windows or an angled or bay window configuration, consider extending a continuous valance across the top of all adjoining windows to provide visual continuity. Use a mitered-corner measuring tool, available through drapery hardware supply sources, or consult a professional window covering installer, to determine the exact degree of your angled window and how much clearance is required at the angle. Arched window valances require templates to accurately determine a proper fit. Additionally, you can use craft paper to create a useable pattern.
Workroom Guidelines
If you plan to use your valance alone over a window opening, you need between 2 to 3 inches of depth. Add 3 inches for each additional undertreatment, but strive for a depth of no more than 12 inches. Valance height should be determined by the window's overall length. Opt for valances of 24- to 36-inches deep for opulent styles, such as board-mounted swags. The overall width of a valance should be between 3 to 4 inches wider than the window or treatment it covers. If used alone, frame the window opening within a few inches.
Optional Considerations
For full-length windows in rooms with at least 8-feet ceilings, consider mounting your valance flush to the ceiling and extending it several inches into the window opening for a visual lift. Consider incorporating crown molding around the top of a board-mounted valance and install it at ceiling height to merge with the room's crown molding. Outside board-mounted valances require adequate clearance for mounting brackets, with 1 1/2- to 2-inch angle irons recommended for installation.
References
Resources
Writer Bio
As an allied ASID member, D'Ann Kross co-owned and managed an Interior design business serving the greater New Orleans area for 20 years, and has been the lead designer for a major home furnishings franchise. She has published several articles as a contributing editor for "Gulf Coast Woman Magazine."
Photo Credits
Photos.com/AbleStock.com/Getty Images
Photos.com/AbleStock.com/Getty Images
More Articles