How to Figure Yardage for a Cornice Board
A cornice is a type of window treatment topper that is often fixed or hard. The hard cornice is made out of wood, attached above the window using L-brackets. Softer cornices can be made of thick card boards although these tend to be less durable. The height of the cornice is based on the height of the window and ceiling and is proportioned to look appropriate to the weight of the drapery it covers.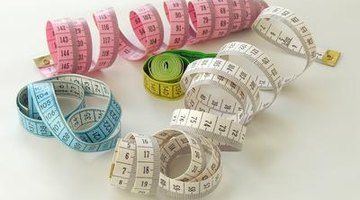 Step 1
Measure the height of the window trim, the height of the ceiling, the width of the window trim. In general, the cornice should sit 4 inches above and to each side of the outside of the window trim. Some cornices will mount right below the ceiling in 8-foot ceiling rooms. Transfer your measurements to graph paper with 1-foot in the room equal to 1/2-inch on the graph paper.
Step 2
Draw the window and the trim. Mark the ceiling and the floor. Lightly draw lines to indicate draperies. Sketch a cornice. On a standard 8-foot ceiling room with standard windows the cornice may be 8 inches tall and 4 to 6 inches deep. By sketching these dimensions onto a scale model of your window you should be able to see if it looks good. If the cornice is too tall it may make the drape look squashed.
Step 3
Determine if your fabric of choice is wide enough to span the cornice. If your fabric has a particular pattern you may want to piece the fabric (sew it together at specific spots) to feature some design on the fabric. Each time you piece fabric you add to the amount you will need to cover the cornice.
Step 4
Determine liner fabric height by measuring and adding twice the cornice height plus twice the cornice depth, plus 4 inches. The liner width is the cornice width, plus four times the cornice height plus 4 inches. The liner should be a white fabric that covers the entire cornice board so that when you look up into the underside of the cornice you see clean white fabric.
Step 5
Calculate finished fabric height by first factoring any pattern returns. Measure cornice height, plus depth, plus six inches. Measure cornice width, plus twice height, plus six inches. (Double your width yardage for each pattern return.)
Tips
Piece your finished fabric before fitting your cornice board. Position the fitted fabric to highlight the pattern or design.
Writer Bio
F.R.R. Mallory has been published since 1996, writing books, short stories, articles and essays. She has worked as an architect, restored cars, designed clothing, renovated homes and makes crafts. She is a graduate of the University of California at Berkeley with bachelor's degrees in psychology and English. Her fiction short story "Black Ice" recently won a National Space Society contest.
Photo Credits
tailors' measure-tapes image by Maria Brzostowska from Fotolia.com
More Articles