How to Make a Double Layered Valance
Add a touch of depth and elegance to any room with a double layered valance created from any fabric you choose. Unlimited fabric options available at most fabric stores mean you can custom design the layers and create beautiful designs no matter what your budget. The custom valance provides a method of tying together colors in your curtains, furniture and carpet in any room.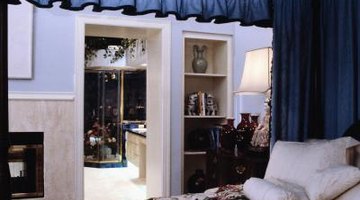 Step 1
Measure the curtain rod that the valance will hang on. Multiply the measurement by two then add 1 inch for seam allowance. This provides you with the length of the fabric that you will need. The length will be the same for both layers of the valance.
Step 2
Measure the height of the window. Divide that number by five then add 2 inches for the seam allowance. Add an additional 2 inches for a thin, standard curtain rod, and 4 inches for a wide circular rod. This gives you the height of the top, or front, layer of the valance. Add another 2 inches to find the width of the second piece.
Step 3
Cut the pieces of fabric using the length and width measurements.
Step 4
Thread your sewing machine and bobbin with the matching thread.
Step 5
Hem the width edges of both pieces of the fabric by turning under 1/2 inch along each edge.
Step 6
Hem the bottom length edges of both pieces of the fabric, turning under 1/2 inch twice to fully enclose all raw edges.
Step 7
Lay the bottom layer of fabric, right side facing up on a flat working surface. The right side of the fabric is the side you want showing.
Step 8
Lay the top layer of fabric on top of the bottom layer, lining up the raw top edge.
Step 9
Turn under 1/2 inch of the raw top edge twice. Both pieces should be folded together as if they were one piece. Stitch in place.
Step 10
Measure down from the seam 2 inches for a standard flat curtain rod and 4 inches down for a wide round rod. Mark a straight line across the entire length of the top layer of fabric.
Step 11
Stitch through both layers of fabric along that line. This second stitch creates the pocket to slide the rod through. The valance is ready to hang.
References
Tips
Add decorative or beaded borders for more depth to the valance.
Writer Bio
Based in southern Virginia, Kristy Robinson has been writing for various websites since 2008. Her work focuses on tutorials and self-help articles. Robinson holds a Bachelor of Science in criminal justice from American InterContinental University.
Photo Credits
Jupiterimages/Photos.com/Getty Images
More Articles