How to Make Twin Bed Sheet Sets
Sheeting fabric, sold in wide widths at fabric stores, hemmed up turns into a DIY flat sheet perfectly designed for your twin bed. A few cuts and rows of straight stitching, and a flat sheet becomes fitted at the corners. The same trick that turns a homemade flat sheet into a fitted sheet can be used to make any commercial flat sheet fitted as well.
Flat Sheet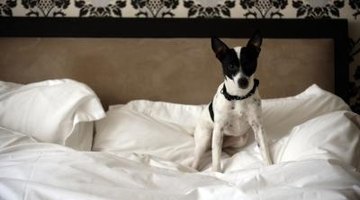 Step 1
Cut sheeting fabric to 67 by 106 inches.
Step 2
Press a 1/4-inch hem on both long edges of the fabric. Fold and pin an additional 1/4-inch hem, and stitch this hem in place with a sewing machine. Repeat on the bottom short edge of the sheet.
Step 3
Press a 1-inch hem along the top of edge of the sheet. Fold and press a second, 9-inch hem on the same edge. Pin this hem, then sew across it. Make a second flat sheet to use in making a fitted sheet.
Fitted Sheet
Step 1
Lay one corner of a flat sheet on a grid cutting mat. Measure and mark a spot 13 1/2 inches from each side of the corner. Draw a 13 1/2-inch line from each of these marks, making a square. Cut out the square with scissors. Repeat on all four sides.
Step 2
Bring the sides of each cut corner together and pin. Sew along these seams. This turns the flat sheet into a box-shaped fitted sheet.
Step 3
Cut four pieces of 1-inch non-roll elastic, 12 inches each. Pin one end of a piece of elastic 6 inches from one corner of the sheet, with the bottom edge of the sheet lined up with the bottom edge of the elastic. Sew the elastic to the sheet, stretching the elastic as you sew, until you've reached 6 inches on the opposite side of the corner. Trim the excess elastic. This draws the fabric in, elasticizing the corner. Repeat on all corners to make a fitted sheet.
References
Writer Bio
Shaunta Alburger has been a professional writer for 15 years. She's worked on staff at both major Las Vegas newspapers, as well as a rural Nevada weekly. Her first novel was published in 2014.
Photo Credits
Janie Airey/Lifesize/Getty Images
More Articles