How to Upholster Furniture With Sheets
Upholstering furniture can be an expensive undertaking because of the cost of upholstery fabrics. However, you can use ordinary bed sheets to upholster your furniture for a fraction of the cost of designer upholstery fabric. Bed sheets are very easy to work with for upholstery needs because the material is typically thin and easy to manipulate, but the thinness of the sheets makes it a less durable option for furniture recovery.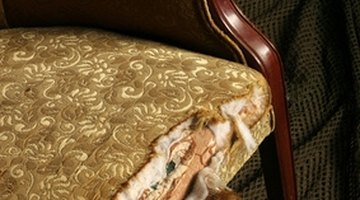 Lay a sheet of muslin fabric over the area you want to recover. If you are working on recovering a large piece of furniture, such as a sofa, break your project into sections. For example, first upholster the back, then the arms and finally the cushions.

Trace the shape (directly onto the muslin) of the area you want to cover with a pencil. Fold your piece in half vertically and check for symmetry. Unfold, and then repeat by folding horizontally. Check for symmetry if applicable. Cut out your muslin to use as a pattern for your bed sheets.

Pin your muslin to your bedding with straight pins. Add 2 inches around all sides of your pattern onto your sheet fabric. These extra inches will be the excess material pulled to the underside of your furniture. Cut out your fabric piece.

Place your bed sheet piece over your desired area. Pull around the edges as taut and even as possible to the underside of your furniture. Staple in place with a staple gun while continuing to hold your fabric taut.

Walk your bed sheet piece around any curved areas and the corners of your furniture as you would straight edges. Because bed sheets are thin, it shouldn't be difficult to fold your fabric over itself to fit your curves and corners without looking to bunches. However, you may need to cut short slits approximately 1 inch apart to make your fabric fall in place properly.
References
Tips
Bed sheets are great upholstery material because they come in large pieces and with interesting prints, but they are not nearly as sturdy as other fabrics. Choose a bedding that is comfortable to sit on, but as thick as you can find. If possible, cover your furniture with a layer of upholstery fabric before recovering with your bed sheet for added durability.
Writer Bio
Liza Hollis has been writing for print and online publications since 2003. Her work has appeared on various digital properties, including USAToday.com. Hollis earned a degree in English Literature from the University of Florida.
Photo Credits
More Articles