DIY Headboards With MDF
When redecorating your bedroom, there are a few inexpensive and easy projects you can undertake that will make a significant difference. One of them is designing and building your own dramatic headboard. An ideal material to use for this is MDF, which stands for Medium Density Fiberboard. MDF is similar to particle board and made up of a composite of wood waste fibers and resin. Another way to save money on this project is to "DIY"---Do It Yourself. While this may sound difficult, with a basic knowledge of a few tools and your imagination it is an easy way to make a huge impact on your bedroom.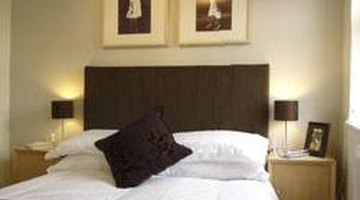 Measure your mattress to determine the width of headboard you will need. The headboard should extend 2 inches on either side of your mattress.

Trace the outline of your headboard design onto the MDF using a pencil. You can do a simple rectangular headboard or you may opt for a more elaborate design, but for simplicity sake, let's say we are making a rectangular headboard. Once you have your design, use the jigsaw to cut out your shape.

Lay the cut piece of MDF on top of your 2-inch foam. Using the electric knife, cut out a piece of foam in the same shape and size as your headboard.

Use your MDF cutout as a pattern to cut your fabric. Spread your fabric on a clean surface and lay the MDF on top of it. Cut the fabric around the MDF allowing 5 to 6 inches of extra fabric on each side.

Attach the 2-inch foam to the MDF using spray adhesive.

Center the MDF and foam face down on your fabric. At this point, your fabric should be right-side down with 5 to 6 inches extending out on all sides.

Attach the cloth to the headboard using a staple gun. Start by pulling the fabric tight and placing one staple in the center of each of the four sides, then work your way towards the edges. When you reach the corners fold the fabric into nice "hospital corners" before stapling.

Attach slot brackets to the wall and backside of the headboard for easy mounting.
References
Tips
Be sure your fabric is centered and stretched evenly before stapling.
Warnings
Whenever working with power tools wear proper eye protection
Writer Bio
Based in California, Daniel Zisko has been a writer since 2008, penning articles for a variety of online publications. Before he started a writing career, he spent several years traveling and working as a hotel manager for several different hotel properties. Zisko holds a bachelor's degree in accounting from National University with a minor in biology.
More Articles