Sears Vs. Best Buy Appliance Warranty
Appliance warranties offer buyers a little peace of mind when bringing home a new refrigerator, dishwasher or air-conditioning unit. While retailers will mention warranty protection to prospective buyers, the manufacturer typically sets the terms and has the obligation to meet them. When you shop at Best Buy or Sears, you may avail yourself of extended warranties and protection packages -- at a cost.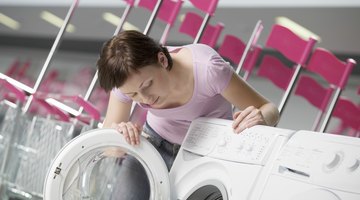 Appliance Warranties at Sears
In its sales material and on its website, Sears reports that the typical appliance manufacturer's warranty is good for up to a year and covers parts as well as service. Some "exceptional" parts may be covered past the term of the full product. Of course, individual manufacturers have the right to set their own terms; many will not honor a warranty if any damage was caused by poor handling or abuse by the owner, for example, or if the cost of repair will exceed the value of the appliance. Sears claims to cover replacement parts for 90 days from the date the part was received or installed.
Protection Agreements
Sears also offers three different types of "protection agreements" that extend the manufacturer's warranty. With the Master Protection Agreement, a customer has a full replacement guarantee, which includes installation and delivery charges, as well as an annual preventive maintenance call from the Sears Blue Crew. The agreement is also good for three years of coverage for cosmetic damage and 25 percent reimbursement of parts not covered by the manufacturer's warranty. If your freezer or refrigerator goes down, you may claim up to $250 in food loss.
The Best Buy Plans
Best Buy also sells appliances, although this retailer does not carry "house brand" appliance lines such as Kenmore at Sears. The Best Buy "Geek Squad" of technicians sells its own protection plans, which are available for in-store or at-home service of appliances, electronics, home theater components, computers and sound systems. Buyers have a chance to purchase a plan when selecting their new appliance and to renew the plan when it expires. Best Buy also offers product protection plans that will extend or supplement a manufacturer's standard warranty.
Product Replacement Plan
The Best Buy Product Replacement Plan is also available either when you buy the product -- in the store or online -- or are still within the return period (for most products, that's 30 days). If an appliance fails, the store will offer a gift card, with which you can choose the same product as a replacement or another product at the same price. Best Buy also offers one-year extensions on the standard one-year Geek Squad contract but not on the Product Replacement Plan.
References
Writer Bio
Founder/president of the innovative reference publisher The Archive LLC, Tom Streissguth has been a self-employed business owner, independent bookseller and freelance author in the school/library market. Holding a bachelor's degree from Yale, Streissguth has published more than 100 works of history, biography, current affairs and geography for young readers.
Photo Credits
IPGGutenbergUKLtd/iStock/Getty Images
IPGGutenbergUKLtd/iStock/Getty Images
More Articles