How to Recycle Plastic Bags for Cash
You can recycle plastic bags and make money doing it. Most grocery store collection centers do not offer any incentive for customers to drop off their plastic bags. Bags must either be taken directly to an interested party or recycled into a new object and sold. The majority of plastic shopping bags are made from No. 2 and No. 4 plastic, which are accepted by many recycling centers. Transform the bags into sellable works of art if no one is willing to pay cash for them in their current state.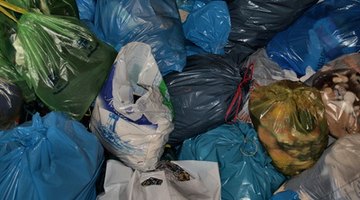 Look for a number code on the bags to make sure they are No. 2 or No. 4 HDPE plastic. Contact local recycling centers in the area and ask whether they accept plastic bags like the ones you have. Ask what the compensation per pound of plastic is for each location you contact that accepts them before deciding where to go.

Visit a few small retailers like liquor stores and gas stations and ask the owner whether they are interested in buying used plastic bags from you. Some businesses may be willing to buy the bags and reuse them if they are clean and dry.

Contact composite decking companies to see whether they are interested in buying plastic bags from you. Many collected plastic bags are used by companies like CorrectDeck, TimberTech and Trex Deck to form resilient plastic boards. Visit the websites and send companies a contact email with specifics about the bags you have.

Cut the bags to make plastic yarn if you are unable to find a buyer for the bag in its current condition. Trim off the handles and start cutting a 2-inch-wide spiral strip from one of the open edges. Continue the spiral at an even width until you get the the bottom of the bag.

Tie several strips together at their ends to form a long strand of plastic. Twist the connected strips of plastic until it is difficult to twist them any tighter. Weave the plastic yarn together to make a plastic fabric for a useful craft.

Sell the finished plastic bag crafts for cash at an online auction site, garage sale or crafts fair. Remember to charge for the materials and the time you put into making the item. Promote the item by letting people know how it was made and that it was done in part to reduce plastic bag waste.

Things You Will Need

Scissors
Crochet needles (optional)

Tip

Many retailers are selling lightweight shopping bags to be used in place of plastic bags and reduce waste.
References
Resources
Writer Bio
Jeffrey Brian Airman is a writer, musician and food blogger. A 15-year veteran of the restaurant industry, Airman has used his experience to cover food, restaurants, cooking and do-it-yourself projects. Airman also studied nursing at San Diego State University.
Photo Credits
Altkleider image by Marem from Fotolia.com
Altkleider image by Marem from Fotolia.com
More Articles