Function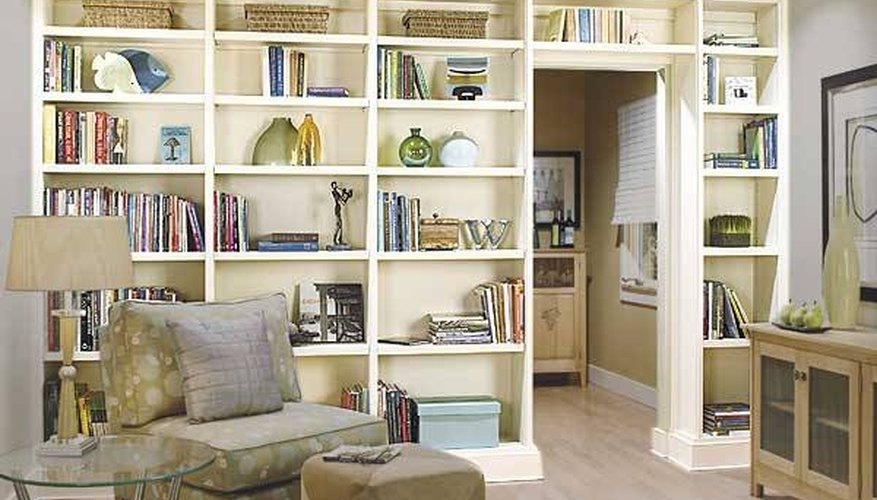 They can be bought pre-assembled which is instrumental in taking out guesswork and added aggravation. The only thing needed is accurate dimensions, some hand tools and a few available hours. They also add a lot of character and feel to a room.
One of the main purposes of built in bookcases is to save space when there are a lot of books to store. They are also designed to hold items other than books such as collectibles, knick knacks, pictures, DVDs, CDs and even TVs and speakers.
Identification
Built-in bookcases can be made from scratch if you have the skill level. But it might be a better idea to buy them prefabbed or buy a bookcase plan. Bookcase plans are very succinct, offering the user photos, directions, tips, materials needed and diagrams.
Features
Built in bookcases are usually made out of hardwood such as oak, cherry, walnut and maple. These types are rather expensive. Hardwood built-ins are finished with a clear coating to show off the wood grain or they are stained. Pine built-ins are a cheaper grade of bookcase. The wood is cheaper, they have less strength and they have more of a tendency to scratch and get nicked up. They also can be clear coated and stained, but they are often times painted. When they are clear coated, usually the highest grade of pine is used. This would feature a smoother wood grain with not a lot of knots. Built-in bookcases are also made with moldings and trim along the outside edges. They can be very decorative or they can be as simple as plain old pine boards. One more feature about built-ins is they sometimes have fancy doors on them. These sometimes come with glass panes to see the contents inside. That would be the case if artwork or fine plates and China were being stored in them.
Size
Built in bookcases are usually no more than 8 feet high. But in particular occasions, they can go all the way up to 10 feet. In this situation, a mobile or integral ladder is needed which is often seen at libraries. It is built right against the bookshelves and it slides back and forth on a track.
Benefits
One of the major benefits of built-in bookcases is the fact that they can be made to fit any space and they are instrumental when there is a lack of square footage in a house. They are designed to meet specific heights, widths and depths and can be custom built to fit into any sized area. This is an added bonus when there is a lack of closet space.