The Disadvantages of Gas Ranges
Though gas ranges can be less expensive to operate than electric ranges, some features are limited in comparison to 220-volt electric systems. Initial cost is usually higher than for a comparable electric range, and installation is more complicated. And, at least part of the work required to set up a gas range should be done by a certified technician.
Fuel Types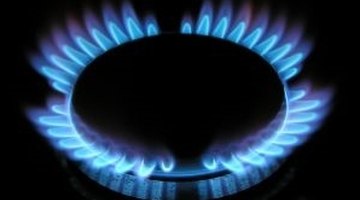 Gas ranges can be set up to burn either natural gas or propane fuel. Connecting to a municipal natural gas system or a propane storage tank is a job for a professional and must be done according to code. The initial outlay can be expensive if piping must be run or a storage tank installed. Gas ranges usually require a 120-volt electrical connection as well for accessories such as clocks, timers and fans.
Air Quality
Because of the combustion byproducts from the burners, a hood and vent system must be installed over the range. The exhaust fumes must be vented directly to the outside, and vents must be positioned so that fumes will not be drawn back into the home. Part of the exhaust system is an electric fan--although the stove may work without electrical power, the fan will not. Gas ranges should not be used without proper ventilation.
Controls
Gas ranges are simple to operate, but they do not have all the digital control options of modern electric ranges. Temperatures of gas ovens and intensities of gas burners are maintained with valves that control fuel flow. Gas ovens often do not have self-cleaning options. Older designs will have pilot lights that ignite burners when control valves are opened. Owners must be careful not to accidentally extinguish the pilots when cleaning, or hazardous gas fumes may accumulate in the appliance. Modern designs use safer electronic ignition.
Cleaning
Gas ranges use metal grills to support pots and pans above the burners. Spilled food will collect on the grills, as well as fall into the space around the burners. Grease-catching pans below the burners must be regularly removed for cleaning. Maintenance of the burners and grills is labor intensive compared to the easy cleanup of a modern smooth-top electric range. Range hoods also collect grease and smoke residue and need regular maintenance.
Hazards
Gas ranges present a potentially serious hazard if improperly installed or poorly maintained. Though many have excellent safety features, malfunctioning stoves can leak explosive fumes that also are poisonous to breathe. If filters in ventilation systems are not changed or cleaned as required, home air quality will decline.
References
Resources
Writer Bio
James Young began writing in 1969 as a military journalist combat correspondent in Vietnam. Young's articles have been published in "Tai Chi Magazine," "Seattle Post-Intelligencer," Sonar 4 ezine, "Stars & Stripes" and "Fine Woodworking." He has worked as a foundryman, woodturner, electronics technician, herb farmer and woodcarver. Young graduated from North Seattle Community College with an associate degree in applied science and electronic technology.
Photo Credits
Photo by stormdance at http://www.sxc.hu/photo/412522/
More Articles