Replacing Existing Knobs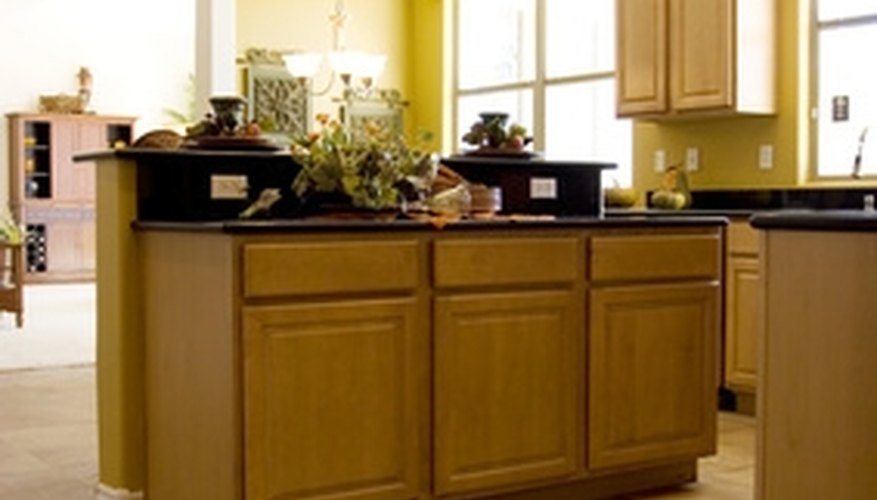 If your cabinet doors already have knobs installed, you will need to find knobs that will work with the holes already drilled into your cabinets. Remove an existing knob and take it with you to purchase the new ones. You'll want to choose a knob with the same thickness of screw. This will make installation easier because you won't need to drill new holes. Also, using knobs of the same thickness will ensure you will not see the hole after the new knobs are installed.
Where to Place New Knobs
According to Tim Carter of Ask the Builder, knobs for wall cabinets should be placed 2.5 to 3 inches from the lower corner, opposite of the hinge. Base cabinet knobs should be placed 2.5 to 3 inches from the upper corner, opposite of the hinge. This is just a guideline, however, and you may need to adjust the placement based on the design of the door. Knobs should be placed on flat areas of the door. While you can measure and mark the knob placement, Carter recommends using a plastic template to mark the position of the knobs. Templates are available from home improvement stores or knob distributors.
Drilling and Installing
Choose the proper length of screw based on the thickness of your cabinet door. The screw must fit though the thickness of the door and still have 1/4 inch to screw into the knob. Pay attention also to the thickness of the screw. You should use a drill bit the same size of the screw or, perhaps 1/64 of an inch thicker, suggests Carter.