How do I Shingle a Round Roof?
When it comes to shingling a round roof, the options are endless. Roofers can choose from various materials, including glass, ceramic and asphalt. Although it is more expensive to shingle a round roof than a standard roof, according to carpenter John R. Crookston, conical or round roofs can accent any building.
Measurements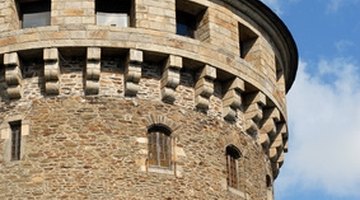 To shingle a round roof, you need to know the measurements of the biggest piece of shingle you will use, the rafter length and the diameter of the cone. After you have measured the diameter of the cone, multiply that number by 3 and you will have a close estimate of how many shingles you'll need. Have extra shingles on hand in case one breaks or your measurement is off.
Appearance
The size of the shingle will help determine the look of the round roof. If the roof is big, use full shingles. For a more rounded look -- or for smaller roof surfaces -- use small shingle pieces.
Challenges
A round roof is often higher off the ground than a standard roof, and uneven, steep surfaces can make applying shingles more dangerous. Set up scaffolding around the bottom of the cone so you can safely access the roof at any point.
References
Writer Bio
Annette Rivlin-Gutman wrote and produced videos for 18 years. She has also contributed to various online publications, authored the children's book "Mommy Has to Stay in Bed" and contributed to teacher resource books by Gryphon Publishing. Rivlin-Gutman holds a Bachelor of Science in education from the University of Michigan-Ann Arbor and is a yoga instructor in Northern California.
Photo Credits
More Articles