Does Tex-Cote Paint Increase Home Value?
Bring your home into the 21st century by covering its exterior with an elastomeric paint, the same type of paint the government uses to reduce radar signatures and cool down its ships at sea. Manufactured by Textured Coatings of America, Inc., Tex-Cote Coolwall products are designed to last longer than traditional paint, provide additional protection and also minimize exterior and, ultimately interior temperatures thereby reducing cooling costs. But Tex-Cote paint costs considerably more than most other paints and whether or not it increases your home's value depends on several factors.
Paint Durability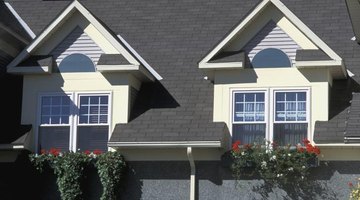 A home's curb appeal and ease of maintenance can increase its value to potential buyers, so choosing a paint that lasts longer than standard paints offers a chance for that to happen. The paint's manufacturer, Textured Coatings of America, Inc., claims that Tex-Cote Coolwall lasts a lifetime, offering a limited lifetime warranty. Many other manufacturers of elastomeric paint offer a 10-year warranty, as opposed to the two-year warranty typical of standard paints. Tex-Cote Coolwall is 10 times thicker than standard paint, and the same properties that help it reflect light and reduce exterior temperatures also help to preserve its color over time.
A Protective Coating
Once cracks begin to appear in homes covered with concrete masonry or stucco, costly damages usually follow, as cracks grow with changes in weather -- and the home's value decreases. But a paint from Tex-Cote Coolwall's line can keep small cracks from getting larger. Because these porous surfaces are susceptible to penetration by moisture, along with expansion and contraction that causes the cracks to form, elastomeric paint can help alleviate this problem. These types of paint have the ability to stretch and shrink with temperature changes to keep these small cracks sealed. Many masonry and stucco contractors choose elastomeric paints to provide added protection to these surfaces.
Energy Efficiency
Energy efficiency has a huge effect on a home's value, because it means less money is spent to keep the house warm or cool. Tex-Cote Coolwall reduces cooling costs by reflecting ultraviolet rays from the home's exterior. This reduces the temperature of the exterior surface, which minimizes the heat that the home's insulation needs to seal out. The U.S. Department of Energy showed that Tex-Cote Coolwall can reduce cooling costs by almost 22 percent. This number varies based on several factors that include the color of the paint, the home's geographic region and local climate.
Correct Application
Improperly applied elastomeric paints do not perform to their specifications, and can reduce the value of the home overall, especially if bubbles or chips appear in the paint's surface. Proper application of the product is critical to increasing the home's value. The required wet film thickness, or the depth at which the paint must be applied, is roughly 1/32 inch. Check with your chosen product's specifications for the exact coating depth for maximum protection and energy efficiency. To achieve the required thickness, it may require more than one coat of paint. In addition, depending on the product, specifications may call for specific applicators. Each Tex-Cote Coolwall product has its own requirements for application ranging from paintbrushes and rollers to commercial grade sprayers with specific tip sizes.
References
Writer Bio
Matt Brown has been writing professionally for more than 15 years. He shares his experience in home remodeling and do-it-yourself projects with his readers. Brown earned his bachelor of arts in communications from Marist College in Poughkeepsie, N.Y.
Photo Credits
Design Pics/Design Pics/Getty Images
More Articles