How to Decorate a Wooden Spool Table
While you could pay big bucks for a spool-style table at a home decorating store, there's no reason why you can't make your own one-of-a-kind version at home and save money. Once you've obtained one of the industrial-size spools used to hold cable, you have the perfect base for the design of your choice. With some ingenuity and creativity, you'll soon have a new piece of furniture that fits your perfectly into home after you've added a few decorative touches to it.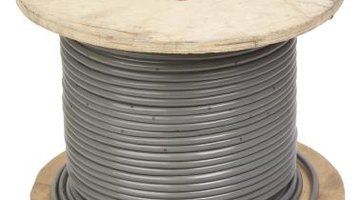 Step 1
Sand down any rough edges or surfaces on your table that may snag your clothing or give you a splinter. Sand the table outdoors and use a block sander with a medium grade sandpaper. Use a soft cloth or hairdryer to brush or blow any remaining sawdust from the table.
Step 2
Decide whether you want to paint your spool a color or varnish or stain it to allow the natural wood to show through. Consider the decor of the room where you plan to place your table and the style and color of the other pieces that it will be near.
Step 3
Paint, stain or varnish your table outdoors on a day with low humidity to allow each coat to dry thoroughly and prevent an accumulation of fumes. Put at least two coats on your table for maximum coverage. When using a lighter paint color, you may have to add a third coat to thoroughly cover the wood.
Step 4
Add the decorative touches of your choice once the final coat of paint, stain or varnish has dried overnight. Choose from decals, stenciled decorations or freestyle painted designs. A country floral design, nautical theme or distressed wood look are just some of the endless possibilities.
Step 5
Use a spray sealant to cover the artwork and paint job you added to your table. Follow the instructions on the sealant and allow the table to dry thoroughly before placing items on your table.
Tips
Use alternate decor ideas to create an unusual look for your spool table. Wrap a thick rope around the base to give the appearance of an oversize spool of thread or a nautical look, or glue pieces of glass, shells or mirrors to create a mosaic pattern on the top or sides of your table.
Warnings
Wear goggles and a protective respiratory mask when working with paint and sealant. Open several windows for ventilation when you must work indoors.
Writer Bio
Amie Taylor has been a writer since 2000. Book reviews, gardening and outdoor lawn equipment repair articles and short fiction account for a handful of her published works. Taylor gained her gardening and outdoor equipment repair experience from working in the landscaping and lawn-care business she and her husband own and operate.
Photo Credits
Hemera Technologies/PhotoObjects.net/Getty Images
More Articles