How to Stain a Composite Front Door
While wooden front doors add curb appeal to your home's exterior, they are highly susceptible to weather damage. Over time, your wooden front door may crack or warp due to the changing climate. Unlike wooden front doors, composite doors are resistant to weather changes – making them a more durable option for homeowners. Fortunately, you don't have to sacrifice the elegant appeal of a wooden front door for the durability of composite. You can stain your composite front door in a variety of wood tones to give it the appearance of real wood.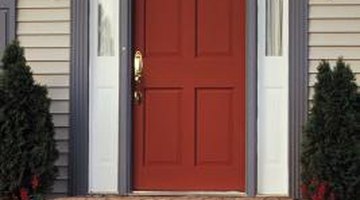 Step 1
Dip a dry, lint-free cloth in mineral spirits. Wipe down your composite door's surface with the damp cloth. Reapply the mineral spirits as needed. The use of mineral spirits prepares your composite door for staining by removing dirt and dust.
Step 2
Apply painter's tape around the doorknob and hinges. If your composite front door has a window or peep hole, tape that as well.
Step 3
Lay a dropcloth down in front of the door. This protects your porch or stoop from a spill.
Step 4
Open the container of stain. Mix it well with a paint mixer.
Step 5
Dip the natural-bristle paintbrush in the stain. Wipe excess stain off the paintbrush by scraping each side of the brush against the edge of the can.
Step 6
Apply a thin coat of stain to one side of the door, using even, vertical strokes. Let the stain dry. Prepare and stain the other side of your composite front door in the same manner.
Step 7
Paint your freshly stained composite door with a thin coat of protective polyurethane. Apply the protective finish with a 2-inch-wide foam brush. The polyurethane finish dries over the stain, helping it retain its color.
References
Resources
Writer Bio
Ciele Edwards holds a Bachelor of Arts in English and has been a consumer advocate and credit specialist for more than 10 years. She currently works in the real-estate industry as a consumer credit and debt specialist. Edwards has experience working with collections, liens, judgments, bankruptcies, loans and credit law.
Photo Credits
Comstock/Comstock/Getty Images
More Articles