How to Distress an Iron Bed
A distressed iron bed can help give your bedroom a cozy, shabby chic or rustic vibe. Distressed furniture has been finished in a way that makes it look older and well-used. Instead of spending big bucks to buy a new bed with a distressed finish, you can use basic painting supplies and skills to distress an iron bed at home for very little cost.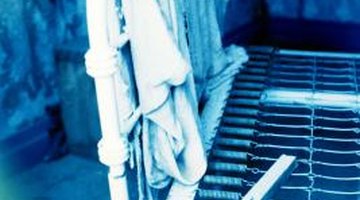 Step 1
Clean your iron bed frame. Remove loose dirt and dust with a slightly dampened cloth or household sponge. Make a mixture of one cap of mild detergent or dish soap and warm water to clean more soiled areas. Rinse and wipe the bed frame dry with a clean paper towel.
Step 2
Sand the bed frame lightly with fine-grit sandpaper. You want to thin the existing paint color and remove any sleek finish. Don't worry about sanding the bed evenly. A rough texture or splotchy look simply adds to its distressed appearance.
Step 3
Paint the bed frame according to the directions on the product's label. Allow the bed to dry completely.
Step 4
Sand the bed frame to allow the underlying coat of paint to peek through the new coat. Focus your sanding efforts on areas that would naturally receive the most wear, such as around the bed knobs, feet, edges and any raised detail work. Wipe off any loose paint particles with a clean, damp cloth.
References
Tips
Bang dents into your iron bed using the tip of a screwdriver or a hammer for a more extreme distressed look.
Warnings
Take care when distressing any iron furniture. You want the finished piece to look like it's enjoyed many years of loving use and not like it's been abused.
Photo Credits
Thinkstock Images/Comstock/Getty Images
More Articles