How to Build a Homemade Fieldstone Fireplace
Fieldstone fireplaces designs vary greatly in size, coloration, weight, shape and texture of the stones chosen for the project. Deposited by glaciers thousands of years ago, the majority of fieldstones are rectangular or oval in shape. The edges are normally smooth due to many years of tumbling and weather erosion. A homemade fieldstone fireplace adds warmth, charm and visual interest. Building the fireplace often becomes a fun and satisfying project that can involve the entire family.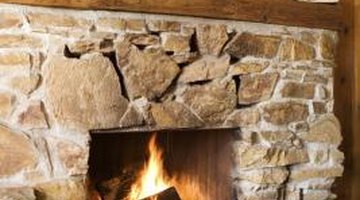 Step 1
Design your fireplace. Make a sketch of the area where you plan to build you fireplace and determine the height, width and depth of the fireplace. For example, you may elect to build a free-standing fireplace, or a dramatic fieldstone fireplace that covers an entire wall. Select the location for the chimney and firebox. You may decide to build the firebox or purchase a fireplace insert that will be framed with stone. Keep in mind your home architectural style to design a fireplace compatible with your home's decor. Take a copy of your design sketch and all measurements to a fireplace design center or rock quarry. Professionals there can help you determine the amount of fieldstone and firebrick required for your project. Purchase mortar, firebrick, flue and chimney pipe parts. Complete kits including all parts and a fireplace insert are available for purchase online or from fireplace design centers.
Step 2
Contact your local city or county fire department to determine whether you will need a permit to build your fireplace. Rules and regulations vary, depending whether you are building an outdoor fireplace or adding a fireplace to a new or existing structure. Check with your homeowner's insurance carrier to determine if adding a fireplace will substantially affect your coverage or premium.
Step 3
Select the type of fieldstone you want to use for your building project. Fieldstones are available in a diverse array of colors, sizes and shapes. You may choose a brownish-colored stone if you are looking for earth tones and a rustic appearance. White, gray, black, blueish-gray and taupe shades are other options.
Step 4
Sort and lay out all your stones by size, setting corner stones aside. If you are working indoors, protect flooring and nearby walls with drop cloths.
Step 5
Build a concrete platform for the fire place. Build a wooden form the same size as the base of the fireplace your are building. For an outdoor fireplace, prepare a base of cushioning sand. Pour the concrete and allow it to set according to package directions on the concrete mix. Use 2-by-4 foot boards to frame the fireplace and chimney. Cover the form with plywood sheeting. Add the flue and firebox, following manufacturer's instructions.
Step 6
Mix up a batch of mortar, following the package instructions. Spread a 1-inch layer of mortar around the base of your fireplace frame, smoothing with a trowel, and begin setting stones.
Step 7
Place face stones first, on the outer edge, then lay the fire brick. Continue in this way on each course. Prepare mortar in small batches so it will not dry out. You can do a layer at a time, allowing the mortar to set before adding more heavy stones on subsequent layers. Finish the mantle or top of the fireplace with cap stones that are flat and smooth to complete your project.
Writer Bio
A passionate writer for more than 30 years, Marlene Affeld writes of her love of all things natural. Affeld's passion for the environment inspires her to write informative articles to assist others in living a green lifestyle. She writes for a prominent website as a nature travel writer and contributes articles to other online outlets covering wildlife, travel destinations and the beauty of nature.
Photo Credits
Jupiterimages/Comstock/Getty Images
More Articles