How to Fix a Ripped Suede Couch
Suede couches are comfortable, durable and stylish. Because suede is a leather product, it is fairly strong, but it can occasionally rip. When this happens, the couch must be fixed. To make the repair as subtle as possible, you work from the inside out. Smaller repairs can be done with a single patch, while larger ones require building up multiple layers.
Small Rips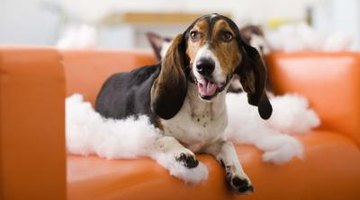 Step 1
Carefully trim any loose fibers from the edges of the rip with a small, sharp pair of scissors. Be careful not to remove too much material, or the edges will not line up properly.
Step 2
Cut a piece of suede that matches the couch. It should be 1 inch wide and 1 inch longer than the tear.
Step 3
Work the strip of suede into the rip, positioned beneath it.
Step 4
Glue the strip to the underside of the couch suede along one side of the rip with fabric glue, applying the glue to the underside of the couch suede with a small brush to prevent excess from oozing out. Allow the glue to dry for the time recommended on the bottle.
Step 5
Brush glue to the other side of the strip.
Step 6
Pull the rip closed over the strip, and smooth the suede to evenly spread the glue.
Step 7
Apply pieces of fabric tape across the tear at 1-inch intervals to hold it closed while the glue dries.
Step 8
Gently brush the suede over the rip in small, circular motions to minimize it.
Large Rips and Holes
Step 1
Trim the edges of the rip with a sharp pair of scissors.
Step 2
Cut a suede patch that is 1 inch longer and 1 inch wider than the rip.
Step 3
Glue the patch within the rip as described for repair of "Small Rips." Do not close the rip beyond the natural stretch of the suede; this first patch is simply an undersurface to which to adhere the second patch.
Step 4
Place a sheet of tracing paper over the patched rip, and trace the portion of the patch that is showing through the rip.
Step 5
Cut a piece of matching suede that perfectly matches your tracing. This is the second patch, and it must line up with the edges of the rip perfectly.
Step 6
Brush a thin coat of fabric glue onto the exposed surface of the first patch.
Step 7
Glue the second patch within the tear, using a pair of tweezers to line up the edges.
Step 8
Allow the glue to dry, then gently brush the edges of the patch to minimize them.
References
"How to Fix Just About Everything"; Bill Marken; 2002
Writer Bio
Alex Smith began writing in 2006 and brings a combination of education and humor to various websites. He holds a Master of Arts in theater and works as a professional makeup and special-effects artist.
Photo Credits
Jupiterimages/Brand X Pictures/Getty Images
More Articles