How to Apply Leather to a Table Top
The top of a table takes a lot of abuse. But, if the legs and frame are in good condition, a leather top will make an old table look new. You can apply leather by covering the tabletop completely--by wrapping it like a gift or applying a leather inlay--or by simply applying a piece of leather and using upholstery tacks as an embellishment. This is the simplest and least expensive method, which should take no more than an afternoon's work.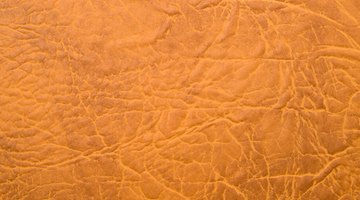 Step 1
Measure the length and width of your table top.
Step 2
Calculate the size of the leather top you will need by subtracting 4 inches from both the length and width measurements. This will allow a 2-inch border on all sides. Adjust these measurements if desired.
Step 3
Trim raw leather to the desired size. Sharpen your shears or craft knife as you move from one edge to another.
Step 4
Position the leather on the table, and "frame" it or "outline" it on all sides with painter's tape. Remove the leather, but leave the tape on the table.
Step 5
Strip the surface inside the tape frame with a liquid furniture stripper. Roughen the stripped surface with 200-grit sandpaper.
Step 6
Apply a thin layer of vinyl wallpaper paste to the surface inside the tape frame, then remove the tape. You should have a perfect rectangle, wet with paste.
Step 7
Position the raw leather at one edge of the rectangle of paste and unroll it carefully.
Step 8
Smooth out the leather with your hands and lay heavy books on it--reaching every corner--to strengthen the bond. Allow the paste to dry.
Step 9
Leave the raw leather top as is or embellish it with upholstery tacks. Measure 1/2 inch in from every edge of the leather and mark the leather with tailor's chalk. Measure along those lines and mark where you will place the tacks, about 2 inches apart.
Step 10
Apply the tacks carefully with a small tack or ball-peen hammer. Be careful not to hit the leather because it will show the dents.
References
Resources
Tips
When buying raw leather, look for a lighter leather, between 2 oz. and 5 oz. in weight. The leather can be color or finish you desire, but a darker leather will retain its looks and hide stains better than a light one. Steer clear of buckskin, suede or rough pigskin, which will look grubby after continued use.
Consider purchasing a custom-made top to suit your dimensions and design specifications.
Maintain the leather top with a conditioner and surface treatment. The conditioner will keep the leather like new, but a surface treatment usually includes waxes like carnauba and beeswax, which make the leather water and stain resistant. Alternatively, apply neutral shoe polish over a conditioner.
Warnings
Do not apply tacks until you are satisfied with your markings.
Writer Bio
Dan Antony began his career in the sciences (biotech and materials science) before moving on to business and technology, including a stint as the international marketing manager of an ERP provider. His writing experience includes books on project management, engineering and construction, and the "Internet of Things."
Photo Credits
More Articles