How to Remove Leather From a Desk Top
Fortunately, most furniture makers use a sparing layer of light-duty glue (even wallpaper paste) to attach leather to a desktop. This ensures that the adhesive did not warp or penetrate the leather, and means that the leather should be fairly easy to remove. You may wish to save the leather in one piece to use as a template; companies that manufacture custom leather inlays typically ask for a tracing, but there is no better template than the existing leather. Regardless, proceed slowly and gently, making certain not to damage the surrounding wood.
Dry Peel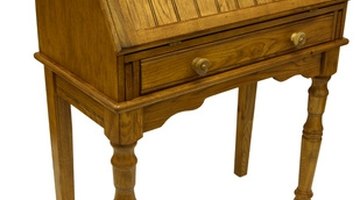 Protect any wood by taping off the wood with painter's tape, along the leather's edge.

Remove tacks or brads (if any) holding the leather to the desktop.

Peel a corner of the leather with a putty knife. If it comes away easily and the adhesive is dry and crumbly, it is a water-based adhesive or rubber cement. You should be able to remove the entire top in one piece, slowly and carefully. If the glue is fairly resistant, use lacquer thinner.
Lacquer Thinner
Dampen a clean rag with lacquer thinner, and rub any lacquer or wax off the leather to expose the raw leather.

Dampen a fresh rag, and apply to one corner of the leather, allowing it to penetrate. Reapply until the corner peels easily with your putty knife.

Apply lacquer thinner to the surface and underside of the leather until you have removed the entire piece of leather.
Preparation
Rub down the exposed surface with lacquer thinner or wood stripper, to remove any dried glue or scrap leather. Anything you leave behind will show through the new leather.

Sand down the exposed surface, removing any dried glue or scrap leather. Use a palm sander or a block, for an even surface.

Apply tung or lemon oil to the exposed surface, as the lacquer thinner or wood stripper will have dried the wood. Allow one application of oil to absorb completely, before applying a second. Allow it to penetrate completely before attempting to replace the leather or stain the wood.
References
Tips
Trace the leather top's shape on butcher paper before you remove it, if you don't believe you can remove it in one piece. The butcher paper tracing will serve as your template.
Writer Bio
Dan Antony began his career in the sciences (biotech and materials science) before moving on to business and technology, including a stint as the international marketing manager of an ERP provider. His writing experience includes books on project management, engineering and construction, and the "Internet of Things."
Photo Credits
oak drop lid secretary desk image by James Phelps from Fotolia.com
More Articles