How to Use Paste Wax on Painted Furniture
Although paste wax has been used on furniture for centuries, it is outdated and does not provide a protective finish. Wax does not protect wood furniture from heat, water or chemical spills and doesn't dry to a hard, durable surface. Wax is still used to restore shine and color to antique and older furniture that was originally finished with wax. It can also be used as a polish to minimize scratches and deepen the color on painted furniture finished with a varnish or lacquer; in addition, it is used in distressing techniques.
Polishing Technique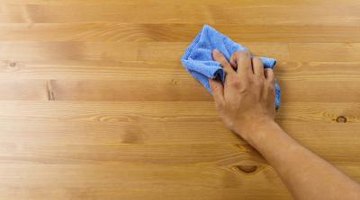 Step 1
Clean the furniture with a rag dipped in a mixture of oil soap and water. Use a separate, dry rag to wipe away any moisture that remains.
Step 2
Use the putty knife to scoop a lump of paste wax in the center of a folded-over, double-layered piece of cheesecloth. Twist the cloth into a ball and knead the cloth-covered wax in your hand to soften it.
Step 3
Rub the cloth wax ball over the surface of the painted furniture, allowing the wax to seep through the cloth. Rub in any direction desired, such as back and forth or in a circular motion, with the wood grain. Work in small areas to determine the proper waiting time for removing the wax.
Step 4
Observe the area where you applied the wax. Wait 4 to 5 minutes to see if it turns hazy. Apply more if the wax remains shiny, until you get a coat that turns hazy. Buff away the excess wax with a clean, lint-free cloth until you have an even sheen. Repeat this process over the entire surface.
Distressing Technique
Step 1
Sand the furniture to completely remove any pre-existing varnish, using a low-grit sandpaper. Leave on some of the original paint color if you want it to show on distressed areas. Remove all sanding dust by wiping down the furniture with a tack cloth.
Step 2
Stir the primer thoroughly and pour some into a paint tray. Dip the brush into the primer, covering the brush ends with ½ to 1 inch of primer. Wipe off the excess to avoid drips. Brush on an even coat of primer, following the wood grain. Allow the primer to dry for 24 hours.
Step 3
Apply the base coat color using the same method as you did for the primer. Allow the base coat to dry for 24 hours.
Step 4
Use a soft rag to apply a thin coat of paste wax to the areas you want to distress. Focus on corners and edges and around knobs, handles or raised areas with trim, areas that under normal everyday use would experience the most wear. Allow the wax to dry for an hour.
Step 5
Apply the topcoat paint, covering the entire surface thoroughly. Load the brush in the same manner as Step 2. Allow the topcoat to dry for 24 hours.
Step 6
Sand the areas where you applied the paste wax, using light pressure. Alternate between the 80-, 100- and 120-grit sandpaper for variations in the amount of distress. Stop when you see the base color or original paint color, or go down to the bare wood in a few areas if desired.
Step 7
Wipe down the furniture with tack cloth to remove all the sanding dust. Seal the finish with a spray-on or brush-on clear polyurethane varnish.
References
Resources
Tips
Paste wax is often used as a finish on gently used, distressed furniture painted with chalk paint or milk paint. A dark-tinted wax provides an aged look.
If you wait too long to buff the wax and it hardens, apply more wax to let the solvents in it soften the hardened wax. Wipe it off quickly to remove the excess and buff to an even sheen.
Warnings
Paste wax contains solvents such as mineral spirits or tolulene, so apply it in a well-ventilated area.
Do not use solvent-based wax on water-based finishes that have not fully cured, as it may harm the finish.
Do not paint over waxed furniture except in distressing techniques, as the paint will not adhere to the furniture.
Do not place waxed furniture near a window or in a sunny spot; it will melt the wax.
Writer Bio
Michelle Radcliff owned a retail home furnishings business for eight years. Radcliff offers decorating advice on her blog, Home Decorating News, is a regular contributor on interior design at LoveToKnow.com and earned certification as an interior decorator from Penn Foster College in 2013.
Photo Credits
leungchopan/iStock/Getty Images
More Articles