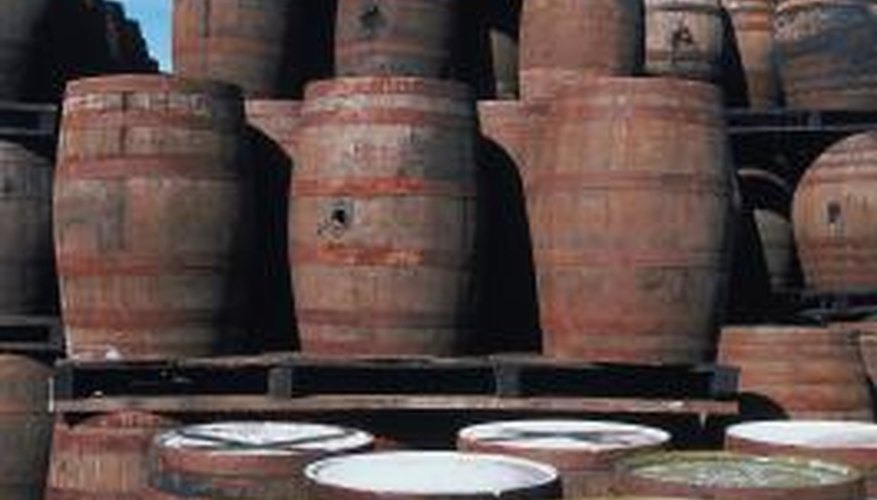 With a little creativity, you can also turn a couple of wine or whisky barrels into an outdoor bar for serving meals and drinks during warm-weather cookouts. Knowing how to make a bar out of whisky and wine barrels gives you the opportunity to embellish your patio area with wood grain and texture.
Step 1
Place two empty whiskey barrels side by side. Space them five feet apart.
Step 2
Fill each barrel with 50 pounds of sand. You can also use gravel, rocks, or anything else that weighs down the barrels. Cover the barrels with their accompanying lids.
Step 3
Place an unfinished, wooden door horizontally across the whiskey barrels. The door should be free of hinges, handles or anything else. Ideally, this should be a door that hasn't been finished or drilled, but you can use a finished door instead and simply remove handles and hinges from the wooden piece.
Center the wooden structure so that approximately eight inches overlap the barrels at each end.
Step 4
Drill a single 5-inch screw into either end of the door and into the tops of the wine barrels. This only penetrates the tops of the wine barrels, but it still anchors the top of your bar in place.
Step 5
Lay a sheet of Formica, granite or marble across the top surface of the door. Stone sheets are heavy, so have a friend help you. They're also heavy enough to stay in place on your new bar, and won't slide off with the wind or jostling of the barrels.
Things You Will Need

2 whiskey barrels
100 lbs. sand
Heavy wooden door
5-inch screws
Hand drill
Sheets of stone