How to Make a Basement Look Like a Wild West Saloon
Give your basement the ultimate man-cave makeover with an Old West saloon theme. Make over the walls and floor with a rustic finish; add swinging saloon doors; and you have a room ready for displaying your collection of antique whisky bottles or Wild West "wanted" posters.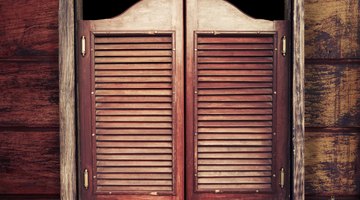 Swinging Door Decor
A swinging saloon door sets the tone for an entire basement room decked out in Old West decor. Install swinging partial doors designed to look like old cafe or saloon doors in an entryway that leads from one room of the basement into another; for safety reasons, avoid placing them at the bottom of the steps into the basement. Some companies specialize in reproduction doors, so you won't have to create the doors yourself. Weather the doors by sanding off some of the varnish or stain, or make them look bleached and aged by dry-brushing a light brown paint or glaze over both sides, then sanding off much of the finish, as if the doors have been in place in a real saloon for years.
Wild-West Walls
Cover the basement walls with old, faded barnboard planks to give it a ramshackle saloon vibe -- many early saloons were thrown together with materials on hand. In some cases, even wood was a luxury building supply. Instead of using actual barn boards, paint finished walls or paneling for a similar effect using a wood-graining tool and two wood colors: one in paint or in a tinted glaze. Paint the planks or panels the base wood color; then glaze over them, dragging the wood-graining tool through the glaze to create the board effect. Paint one of the walls with a mural of the bar area, including shelves with old whisky bottles, or make the mural as a view from within the saloon looking out toward the Old West street, with other businesses visible through a window on the mural itself. Project an actual photograph of a saloon, such as a still shot from a Western movie or a real vintage photo, on the wall and trace the details in chalk before filling them in with paint.
The Bar
No saloon-themed basement is complete without a bar. If you don't drink alcohol, no worries -- use the bar to hide a coffee pot, electric tea kettle or small refrigerator for carbonated beverages. Reclaim an existing bar by refinishing it or giving it a faux wood finish. Architectural salvage shops or charity salvage yards frequently have old bars available. Early saloon bars were sometimes nothing more than boards or scrap wood stacked atop whisky or wine barrels, so that's another decorative option. Place a large mirror on the wall behind the bar, and add a counter or shelf space in front of the mirror to display a collection of liquor bottles. Display bottles you actually use in the bar, or purchase empty bottles more than 100 years old for a true vintage vibe. Fill empties with water colored to look like the original bottle contents, if desired. Add corks to keep the liquid from drying out.
Finds and Flooring
Decorate the room with Western-themed finds, such as old tin signs advertising tobacco or whisky. Place a spittoon or two on the ground near the bar and add a few antique-style bar stools as seating. Old wooden tables and chairs serve as places to sit for saloon patrons. Place a wooden coat rack in a corner of the room, complete with a cowboy hat or two, or even a holster and toy gun. Add a "wanted" poster near the door, featuring a mug shot of your favorite Old West outlaw, real or fictional. Decorate the floor with a faux wood plank finish by painting on the planks, or by using planks made out of brown paper stained to look like old wood flooring, complete with nailholes. Watered-down school glue holds the paper planks in place. Several coats of varnish protect your work.
References
Resources
Writer Bio
Kathy Adams is an award-winning writer. She is an avid DIYer that is equally at home repurposing random objects into new, useful creations as she is at supporting community gardening efforts and writing about healthy alternatives to household chemicals. She's written numerous DIY articles for paint and decor companies, as well as for Black + Decker, Hunker, Landlordology, SFGate and others.
Photo Credits
fergregory/iStock/Getty Images
fergregory/iStock/Getty Images
More Articles