How to Build an Old Western Storefront Shed
Today's homeowner craves a little imagination added to utilitarian projects, so it's no surprise you have your heart set on a shed that emulates an Old Western storefront. Backyard sheds are indispensable for stowing everything from grass seed to lawn mowers and weed whackers, but in the past, do-it-yourself engineers did little more than slap up walls, pop on a roof and hang a door. Find inspiration for your storefront shed by renting a few old John Wayne videos, partner, and you'll be motivated to recapture that era when you build your backyard storage hub.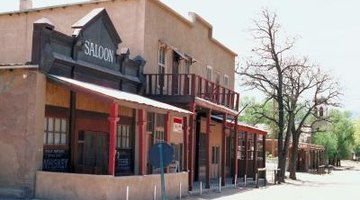 Step 1
Sketch out the façade of your storefront shed by searching websites for drawings or photographs of actual Old West-styled general stores. Look also for images of products sold at these mom-and-pop stores so you can replicate barrels, boxes and crates, either as 3D embellishments or painted-on designs.
Step 2
Rake up grass before using string and stakes to mark the boundaries of your old western-themed shed. Use 2-by-4s to construct a frame. Lay down gravel if you want an extra measure of waterproofing under the shed floor. Prepare cement mix in a wheelbarrow per package instructions and pour it over the graded area, allowing it to cure and harden before you remove the wood frame.
Step 3
Build a floor. Re-use the aforementioned frame if it's intact or make another so you can construct a wood floor atop the framework. Fashion floor joists cut from pressure-treated lumber and use screws to attach them to the floor frame. Cut exterior-grade plywood to size and nail it to the framework.
Step 4
Frame up four shed walls using pressure-treated 2-by-4 lengths of lumber. Nail plywood or individual wood boards to the frame to build out the walls. Cut out the door opening with a saw. Frame the door opening with additional pieces of 2-by-4 lumber. Install antique or rustic hinges for authenticity. Hang the door. Add a flat plywood roof and cover it with roof tile.
Step 5
Turn the shed into a western storefront. Mount a flat, horizontal section of plywood that runs the width of the shed to the area above the door that's lettered with your choice of phrases: "Western Goods," "Old West Store" or use your name to personalize the header with, for example, "John's Old West Store."
Step 6
Give the shed's exterior a weathered look using a wood distressing kit or paint the shed's exterior so it looks as though it's been around for a few hundred years. Get as detailed as you like – paint a mural that depicts barrels of fruit, hanging hams and other touches, or add a faux window that emulates the look of a general store.
References
Tips
Attach old metal replica signs, vintage oil lamps and other memorabilia to the shed's exterior. Don't forget a hitching post for the horses.
Writer Bio
Based in Chicago, Gail Cohen has been a professional writer for more than 30 years. She has authored and co-authored 14 books and penned hundreds of articles in consumer and trade publications, including the Illinois-based "Daily Herald" newspaper. Her newest book, "The Christmas Quilt," was published in December 2011.
Photo Credits
Jupiterimages/Photos.com/Getty Images
More Articles