Can a Buffet & Hutch Be Put Into a Foyer Instead of a Dining Room?
It's common for decorators and homeowners to place a slim table of some sort in the foyer or entryway of a home. However, there is no hard-and-fast rule regarding the exact size, depth, shape and original purpose of the table. In fact, as long as your foyer or entryway is large enough to hold the piece, you can even use a dining room buffet and hutch there.
Purpose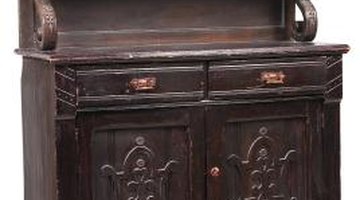 Placing a table in a home's foyer or entry hall is not just to fill an empty room. A hall table basically serves to make entering a home a pleasurable and convenient experience, for a family member or a special guest. A hall table may hold a small functioning lamp, a fragrant candle or bowl of potpourri, a flower arrangement or perhaps framed photos or a small piece of art.
The Buffet
Buffets often have a slim profile, meaning they do not extend too far into the room. Entry halls being usually small rooms, the two are often a good fit. The key is measuring well to make sure there is enough room in the entry for the buffet, people to gather, doors to open and close freely, and any other furniture and accessories in the entryway.
The Hutch
If your hutch is large, looming and leaves little top surface for accessories, such as a few framed photos or a small flower arrangement, you may wish to remove and store it. Many buffet/hutch combinations are configured as two separate pieces, which lets you easily separate them and use the buffet alone. However, hutches come in many sizes and designs. You may find that yours works wonderfully with your buffet as an entry table. Or, if your entry hall or foyer is large enough, you may have room for both an entry table and a buffet/hutch combination. In this case, you can use the entry table for its traditional purpose, and the buffet and hutch to display artwork or curios.
Optimizing Buffet and Hutch
Buffets and hutches feature storage, useful in an entry hall. Consider keeping a small amount of cash in a drawer to tip delivery people. Other smart and convenient items to keep near the door include dog leashes, an old towel for wiping wet shoes or muddy dog paws, and a box or basket for keys and mail. If your buffet has a large storage area, it makes a convenient spot to keep school books and backpacks; near the door but hidden from view.
Additional Uses
Storage pieces are a welcome addition to any room. If your hutch and buffet don't work well in your entry hall, and are not needed in your dining room, consider using them, together or separately, in the nursery as a changing table and a storage cabinet for diapers and clothing, in the family room as a flat screen TV console, in the playroom to store toys and games, or even on a covered porch or in a sunroom to hold beach towels, pool toys and fishing equipment.
References
Writer Bio
Sandra Rousseau has been writing since 1990, covering such topics as home decorating, fashion, health, beauty, gardening and cooking. Her articles appear her hometown newspaper, the "Aledo Community News," and on various websites. Rousseau holds a Bachelor of Arts in journalism and advertising from the University of Texas at Arlington.
Photo Credits
Hemera Technologies/PhotoObjects.net/Getty Images
More Articles