The Uses for a Train Case
According to Webster's Dictionary, the first known train case was used in 1948. It was designed to carry toiletries for train travel. Nowadays, these small carry-ons have a fate similar to train travel for long distances: they are not as common as they used to be. However, there are still a variety of uses for train cases.
Travel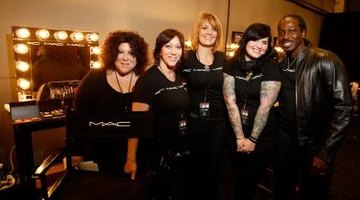 One of the many uses of a train case is for travel. Many women choose to use it as a carry-on for a short trip or as luggage on a long vacation. Some women opt to use it to store carry-on items such as books, mp3 players, a cell phone and a few toiletries or cosmetics to freshen up after a long day of travel. Other women may use it to carry all their makeup, hair products and bath items during a long trip.
Decoration
Many people who believe in feng shui believe that placing an article of luggage in the Northwest corner of a home can encourage travel and friends. Some people also add trinkets, such as post cards from past trips and pictures of places they'd like to visit, inside the train case. There are also a variety of other ways many use a train case in home decoration. Some use train cases to hold wine, some use a train case as a bookend, some people plant flower seeds or small plants for outdoor decoration in train cases and others will use them as decoration for a large bathroom closet or guest room.
Holding Makeup
Probably the most common modern use for a train case is to hold a woman's makeup, such as eye shadow, lipstick, mascara and any other cosmetic that a woman might own. Some women may opt to store something in particular in the train case, like their makeup remover and skincare products, perfumes or their collection of manicure and pedicure tools.
Collectables
Since many train cases come with a lock and key, train cases can be used to store anything of value or that one might not want just anyone to be able to rummage through. For instance, a woman may choose to store old love letters, old maps or anything that might mean something to her. Others may choose to store baseball cards, old photos, old ticket stubs or even old family photos. For those who knit, the train case can be the perfect place to keep the latest project and any supplies. The options are endless.
References
Writer Bio
Emma Black has been a freelance writer since 2002. She has contributed to an array of publications including "Chicago Red Eye," "Newcity Chicago," "East Bay Express" and the "San Diego Reader." Black holds a Bachelor of Arts in communications and media studies from DePaul University.
Photo Credits
Mark Mainz/Getty Images Entertainment/Getty Images
More Articles