How to Remove Ink From Plastic Toys
If your little artist decided to decorate his toys to make them prettier, you find yourself with the dilemma of cleaning them up or having ink spread all over everything else. Removing ink from plastic toys is a simple chore with more than one way to approach the problem.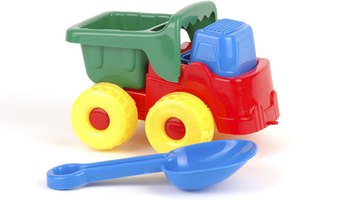 The hardest part of this whole process may be sneaking the toys out of junior Picasso's room to clean them up.
Things You Will Need
Hairspray or non-acetone nail polish remover
Clean cloth
Spray a clean cloth with hairspray to dampen it. You can also use non-acetone nail polish remover.

Wipe the cloth over the stain to remove it.

Continue using more hairspray or nail polish remover and scrubbing until the ink is gone.

Rinse the toy under running water. If it's the type of toy that water may damage, dampen a clean cloth with water and wipe it carefully over the area.

Dry the toy with a clean dry towel.

Tip

A Mr. Clean Magic Eraser may be the easiest way to remove ink stains on plastic. Simply dampen the sponge and wipe the stain away.

Warning

Avoid the use of harsh chemicals when cleaning up children's toys. Plastic is porous and can absorb these chemicals, which can be hazardous if your child likes to put toys in his mouth.
References
Writer Bio
Melynda Sorrels spent 10 years in the military working in different capacities of the medical field, including dental assisting, health services administration, decontamination and urgent medical care. Awarded the National Guardsman's Medal for Lifesaving efforts in 2002, Sorrels was also a nominee for a Red Cross Award and a certified EMT-B for four years.
Photo Credits
sand toys image by William Berry from Fotolia.com
sand toys image by William Berry from Fotolia.com
More Articles