How to Plaster to Level a Floor
If you have an uneven floor you would like to plaster, you can do so with a few simple materials. Keep in mind that plaster is difficult to mix, so you should rent a mixing drill from a home construction store if you do not already own one.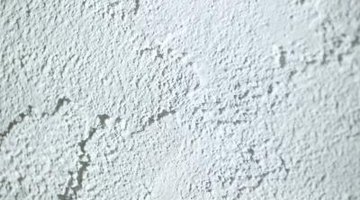 Step 1
Determine how level the floor is by placing a level in the middle and on the sides of the floor. Determine which areas of the floor as not level and mark them accordingly.
Step 2
Place a drop cloth on the floor.
Step 3
Put on work gloves and protective eye goggles.
Step 4
Use a mixing drill to mix the plaster mix and water in the bucket according to instructions listed on the plaster package. You need to work fairly quickly to be able to spread the plaster with a wet trowel.
Step 5
Pour the plaster onto the floor, and smooth it out with a wet trowel. Place more plaster on the areas where you noted the floor is not level. You must estimate how must plaster is needed in a given area, because there is no precise way to do this. Allow the plaster to dry, and use the level to determine whether the floor is even. If it still is not level, mix more plaster, and smooth it over the parts of the floor that are not level.
References
Writer Bio
Vera Leigh has worked as a professional freelance writer since 2008. Her work has appeared in "Learn Overseas" and "Grad Source" magazines. In addition, she received an honorable mention in "Newsweek's" My Turn contest. She has written features for nonprofits focused on literacy, education, genomics and health. In her spare time, Leigh puts her English major to use by tutoring in grammar and composition.
Photo Credits
Jupiterimages/Photos.com/Getty Images
More Articles