How to Remove Footprints From Wood Floors
Remove footprints and other residue with a simple cleaning solution to get clean, shiny hardwood floors. Avoid using water and other harmful cleaning solutions. Clean floors not only look great--they also keep allergens, dirt and other debris at bay.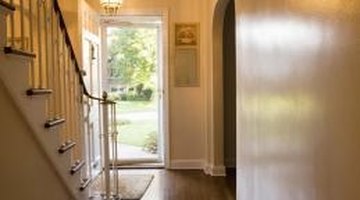 Remove loose dirt and debris by sweeping the area of the hardwood floor you wish to clean. Sweep debris into a dust pan and then throw it away.

Mix 1/2 cup of white vinegar with 1 gallon of water in a large container. Dip the cloth in the solution and wring out excess water.

Wipe the floor with the towel to remove the footprints. Make sure the cloth is damp but not wet. Dry the hardwood floor with a soft towel.

Repeat the washing process over all areas with footprints. Remember to dry each area of the hardwood floor with a towel. Hardwood floors can absorb excess water, which can cause the wood to expand and splinter.
References
Tips
Cover a hardwood floor with a mat or rug to help capture dirt and protect the floor's finish.
Use a professional grade hardwood cleaner to remove tough stains on floors.
Warnings
Do not wax a hardwood floor with a urethane finish. The wax can strip the floor of the finish and take away the shine.
Writer Bio
Alyssa Ideboen has been writing professionally since 2005. She has contributed to several print and online publications, including "Lexington Woman" and "Global Business" magazines. Ideboen holds a Bachelor of Arts in business management and communication from Judson University.
Photo Credits
Jupiterimages/Creatas/Getty Images
More Articles