How to Frame a Bathroom Mirror That Has Plastic Clips
Unframed mirrors are a common fixture in bathrooms in houses and apartments. Normally held against the wall with glue and plastic clips at the edges, adding a frame to this style of mirror gives it a new look. Foam spacers are widely available and come in various dimensions. When glued to the back of a custom mirror frame, they push the frame away from the glass and lift it above the surface of the plastic clip. This process guarantees a level mirror frame installation without any chiseling or clip removal.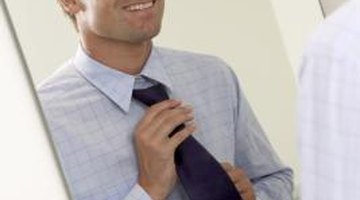 Step 1
Measure the length and height of the mirror with a metal tape measure.
Step 2
Cut picture framing, decorative furniture or architectural trim to the height and width measurements of the mirror. A frame shop or home-improvement store can make the cuts for you if you do not have a table saw or jigsaw. Use a 45 degree angle to make the corner-end cuts.
Step 3
Sand the edges and dry fit the pieces to the mirror to make sure your measurements are correct. Hold the frame up against the mirror to "dry fit" it.
Step 4
Paint or stain the frame pieces before installing them on the mirror. Follow paint or stain instructions to get a professional-looking finish.
Step 5
Turn the pieces of the frame over and apply wood glue to the edge cuts. Place the pieces together and clamp them until dry.
Step 6
Apply dots of hot glue to the back of the picture frame and place half-inch foam spacer squares along the perimeter of the frame. Place the spacers every 2 inches but avoid the area in which the plastic clips will hit the picture frame.
Step 7
Apply a heavy-duty hook and loop tape over the foam spacers along several inches of the back of the picture frame. Place it on all four sides of the frame.
Step 8
Peel the backing off the wall-side portion of the tape and then place the frame over the mirror once you have both sides of the hook and loop tape in place. The foam spacers allow the mirror frame to sit atop the plastic clips without interfering with the frame's stability.
Tips
Use plain wood trim to frame a mirror, and then paint a design or use a decoupage technique to decorate the mirror frame.
Use self-sticking foam spacers to eliminate the need to hot glue the spacers to the picture frame.
Warnings
Use wood spacers attached with wood glue for a more permanent, heavy-duty application around the plastic clips.
Photo Credits
BananaStock/BananaStock/Getty Images
More Articles