How to Remove the Coating on the Back of Mirrors
Mirrors are made of glass that have a reflective metal finish, called silvering, on the back. The silvering is then coated with a protective finish to preserve it. Over time, the coating can chip, crack or peel, which allows air and moisture to penetrate and damage the silvering underneath it. Removing the back coating allows you to apply a fresh coat to protect the silvering.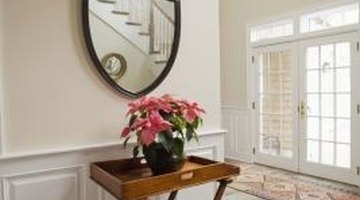 Lay a plastic drop cloth on a flat work surface that will not be damaged by chemicals. Work in a well-ventilated indoor location or an outdoor location. Lay the mirror on top of the drop cloth with the silver side facing upward.

Put on rubber gloves and open a can or bottle of a gel-based metal stripper. Pour it into a paint tray. Dip a paint roller into the stripper solution and roll a thin layer on the entire back of the mirror.

Allow the chemical to sit on the mirror for the amount of time instructed on the bottle or until the surface bubbles up.

Place the rubber edge of a squeegee at one side of the mirror and pull it toward you to scrape off the backing. Hold a large bucket under the edge of the mirror to catch the coating and the chemicals as you remove them.

Continue scraping the mirror with the squeegee until all the back coating is removed.

Apply a second light coat of the stripper to the mirror and let it set for the recommended amount of time to remove any remaining coating residue.

Scrape off the surface of the entire mirror using the squeegee, just as you did before.

Wipe the edges of the mirror with a microfiber cloth to remove the chemical residue. Fill a spray bottle with distilled water and spritz the back of the mirror. Wipe the mirror back with the cloth. Spray the mirror again and scrape it with the squeegee to remove all remaining residue and water.

Fold up the drop cloths and dispose of them in the trash.
References
Tips
If you are working on a small mirror, use a small paint roller designed for trim work.
Warnings
Do not use a putty knife or other hard object to remove the chemical stripper, because these objects will scratch the glass.
Writer Bio
Kimberly Johnson is a freelance writer whose articles have appeared in various online publications including eHow, Suite101 and Examiner. She has a degree in journalism from the University of Georgia and began writing professionally in 2001.
Photo Credits
Jupiterimages/Creatas/Getty Images
More Articles