How to Make Deck Stripper
Stripping your deck surface allows you to change the look of the wood, enabling you to paint it, add new stain or sealant. Commercial deck strippers are laden with chemicals that can irritate your skin and cause damage to nearby landscaping. But you can make your own deck stripper using ingredients found around the home. By mixing a homemade deck stripper, you can be fully aware of the ingredients being used to strip your deck.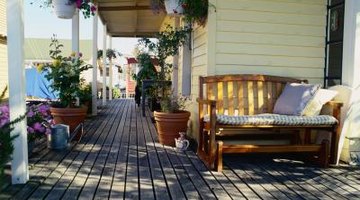 Step 1
Prepare the deck for the stripper by sweeping it with a broom and dustpan to remove dirt and debris.
Step 2
Pour 4 cups of washing soda into a bucket. Add enough water to make a paste the consistency of cake frosting. Stir the two ingredients together with a wooden spoon.
Step 3
Wear rubber gloves to spread the deck stripping paste onto the wood or can use a spatula to spread it over the surface instead. Cover the entire deck surface.
Step 4
Leave the deck stripping paste on the surface of your deck for six hours. Fill a spray bottle with water and mist the paste as needed to keep it moist the entire time.
Step 5
Scrape the old deck stain from the deck with a scraper. Once you've scraped off the majority of deck stripper, use a nylon scrub brush to get into any grooves or crevices in the wood.
Step 6
Rinse the deck with a bucket filled with solution made from 1/2 gallon white vinegar and 1 quart water. Scrub the surface to remove residue from the homemade deck stripper.
Step 7
Dry the deck with cleaning rags. Allow it to air-dry for 24 hours before applying paint, sealant or deck stain.
Tips
Wear old clothing and protective eyewear to avoid dirtying nice clothing or splashing cleaning supplies in your eyes.
Writer Bio
Mary Ylisela is a former teacher with a Bachelor of Arts in elementary education and mathematics. She has been a writer since 1996, specializing in business, fitness and education. Prior to teaching, Ylisela worked as a certified fitness instructor and a small-business owner.
Photo Credits
Ryan McVay/Photodisc/Getty Images
More Articles