Homemade Deck Stripper
Making your own homemade deck stripper enables you to transform the look of your wood deck without using harsh chemical strippers or expensive commercial products. Stripping the wood removes the old coating and allows you to stain, seal or paint the deck to revive its attractive look.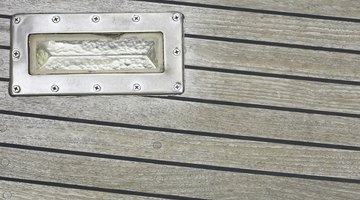 Necessity of Deck Stripping
Decks receive a lot of abuse throughout the year, as they are exposed to extreme weather conditions and a lot of foot traffic. This makes the layers of stain or paint look unsightly due to age. Many homeowners strip their deck to remove paint from the previous owners. This makes the most of the beauty and natural look of the wood beneath the coating -- although stripping the wood is time-consuming and requires hard work.
Solution for Gently Worn Decks
A mild cleaning solution may be all that is necessary to restore the appearance of a gently worn deck, preventing the arduous task of stripping the wood. Add a squirt of mild dishwashing liquid to a bucket filled with warm water. Sweep the deck to remove any surface debris. Pour a cup of the solution on a section of the deck and scrub the area with a stiff bristle brush. Rinse the area with a garden hose. Repeat this until the entire deck looks clean again.
Homemade Deck Stripper
Make your own deck stripper by combining about 4 cups of washing soda with water. Use enough water to make a thick paste that you can spread easily over the deck. Washing soda is inexpensive and found on the laundry aisle of discount and grocery stores. Sweep the deck to remove any dust, grass or debris. Spread the paste over the entire deck with a rubber spatula or wear rubber gloves and spread it with your hands. Make more paste if you don't have enough to cover the deck. Leave the paste on the area for about six hours. Mist the paste with water occasionally if it is a hot, sunny day. This keeps the paste damp and enables it to strip the old finish. Use a paint scraper to remove the old finish and the paste.
Rinsing the Deck Stripper
After you have stripped the deck of the old finish, rinse the area with a mixture of two parts vinegar to one part water in a clean bucket. This removes any of the paste and the residue from the old finish. Wait for the deck to dry thoroughly -- about 24 hours if the weather is dry and sunny -- before applying a new stain, wood sealant or exterior paint.
References
Writer Bio
Chelsea Fitzgerald covers topics related to family, health, green living and travel. Before her writing career, she worked in the medical field for 21 years. Fitzgerald studied education at the University of Arkansas and University of Memphis.
Photo Credits
Hemera Technologies/AbleStock.com/Getty Images
Hemera Technologies/AbleStock.com/Getty Images
More Articles