Before & After: A Basic Mid-Century Side Table Gets Dressed Up
Mid-century furniture has come full circle, emerging as some of the most on-trend shapes in today's most stylish spaces. And yet, some of the classic details of mid-century design still fall into the "dated" category -- think Formica surfaces and faux brass. Luckily, a few inexpensive supplies are all you need to transform a retro piece into something that will last for another 50 years. We challenged ourselves to revitalize a $10 thrift-store side table using nothing but marble contact paper and spray paint, and even we were surprised by the results. Here's how to get the look on your own.
Step 1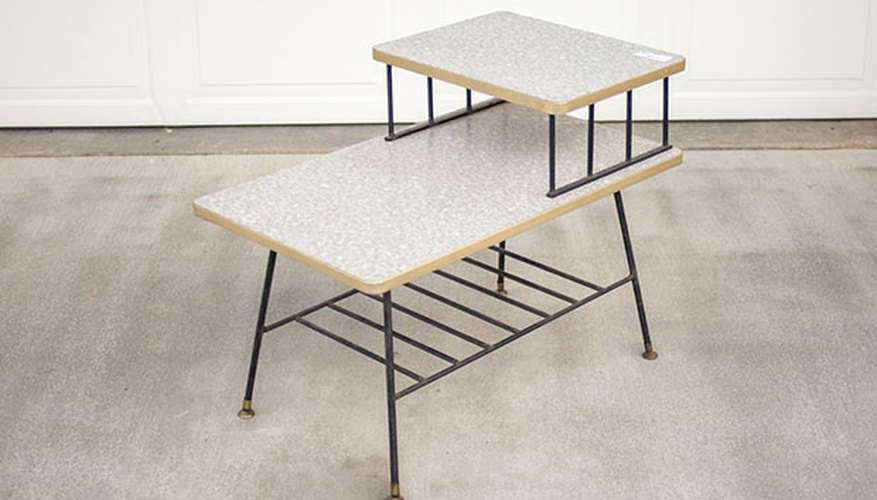 First, you need to track down an authentic mid-century side table for your makeover. Try searching places like Craigslist, local thrift stores and estate sales. We found ours at a local Habitat for Humanity Restore for just $10. Before, the side table lacked everything but good bones. The shape was on point for today's trends, but the dated faux finish and dingy brass were begging for a makeover.
Step 2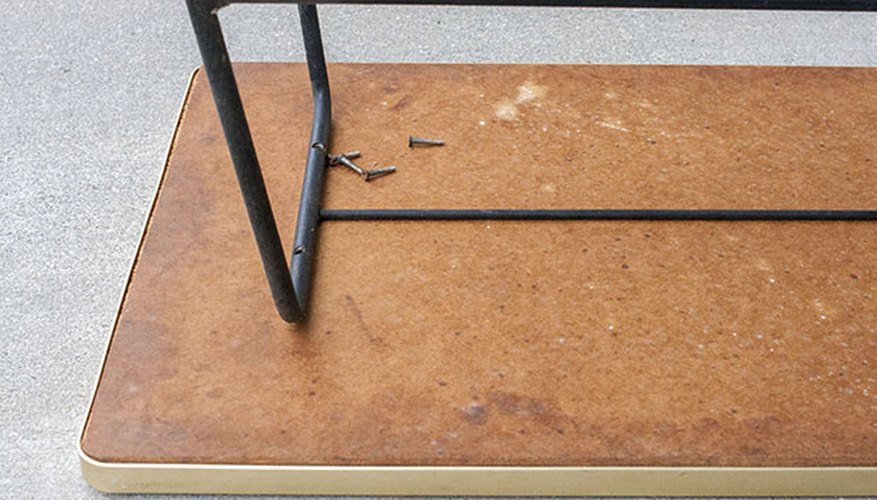 Get started with your furniture makeover by dismantling all the pieces so you can address each surface independently. In this case, we used a screwdriver to remove all the hardware holding the two tabletops to the iron bases. Be sure to set aside the screws in a safe place for reuse during the final phase.
Step 3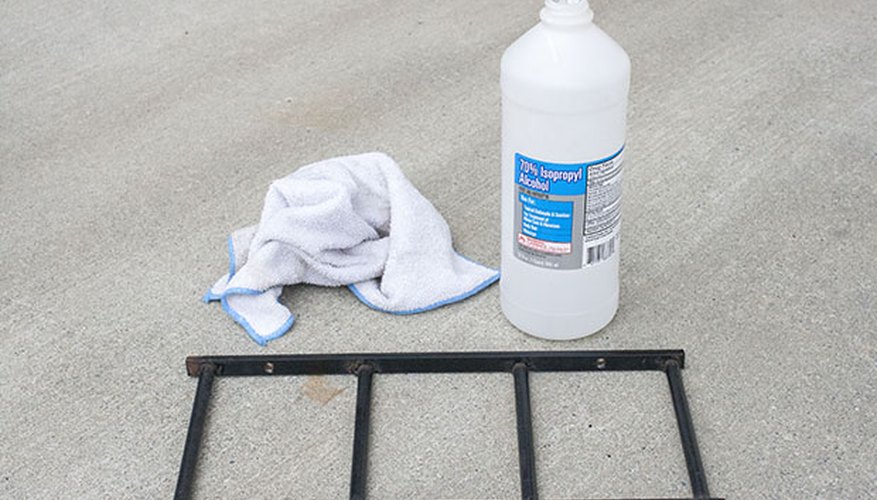 With the table dismantled, wipe down each piece with rubbing alcohol using a clean, dry microfiber towel. Make sure you wipe down both the base and the tabletop pieces. Having clean surfaces ensures the paint and contact paper will adhere to each surface properly.
Step 4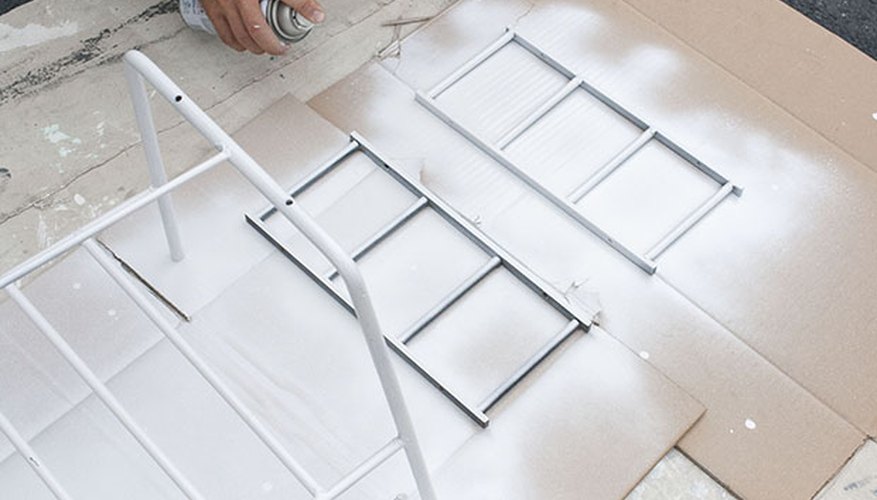 Next, place your furniture pieces on top of a drop cloth in a well-ventilated, preferably outdoor, area. Then, use spray paint to cover the different sections; in our case, we used white for the base and gold for the feet and tabletop edges. You'll want to use thin and even coats, and it likely will take two to three layers to cover the surfaces completely.
Step 5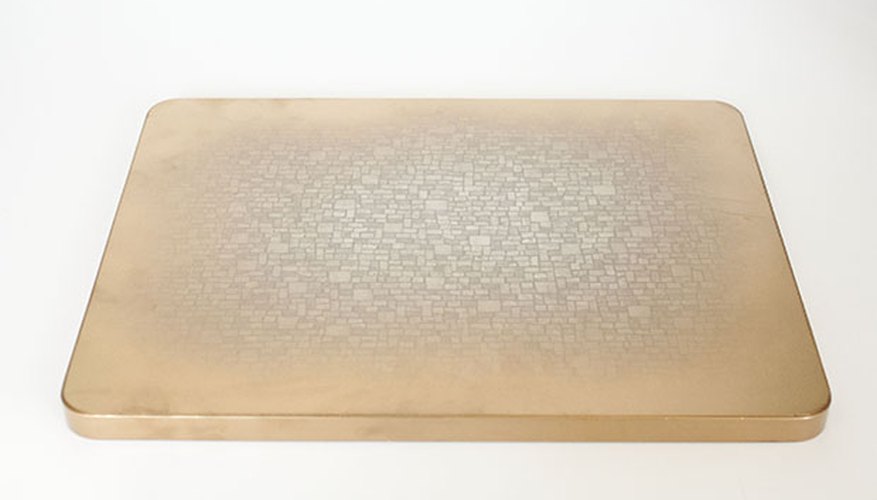 Our side table featured a nice brass detailing on the edges, but the finish left a bit to be desired. So, after wiping it down with rubbing alcohol, we used spray paint to bring back the bright gold look. Since we planned to add contact paper on the top of the table surface, we didn't have to worry about masking off the edge, as seen here.
Step 6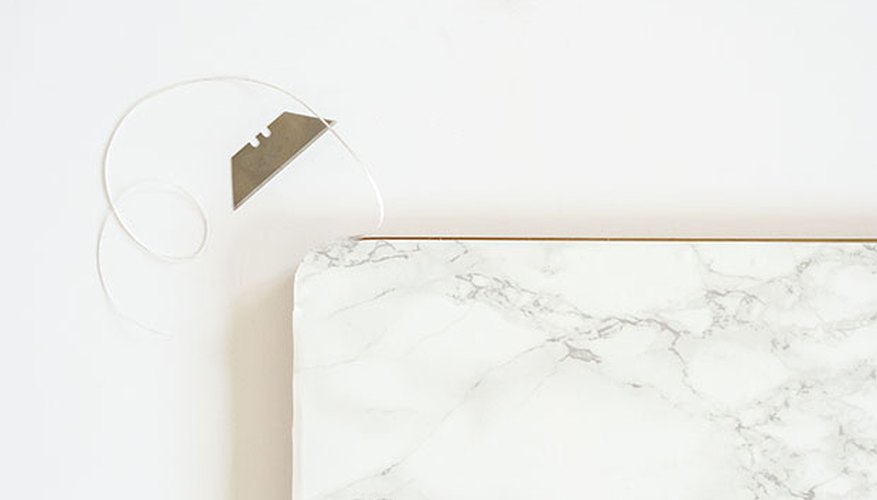 Applying marble contact paper was the final step in refreshing this mid-century side table. To get the look on your own furniture, cut a piece to size, but make it a little bit larger than the surface to allow for trimming. Center the paper on the surface, sticky side down, then use a razor blade to carefully cut away the excess paper along the edges. Use a credit card or piece of cardboard to push out any bubbles from under the paper as you lay it down. Choosing contact paper that can be repositioned or removed later makes the job easier.
Step 7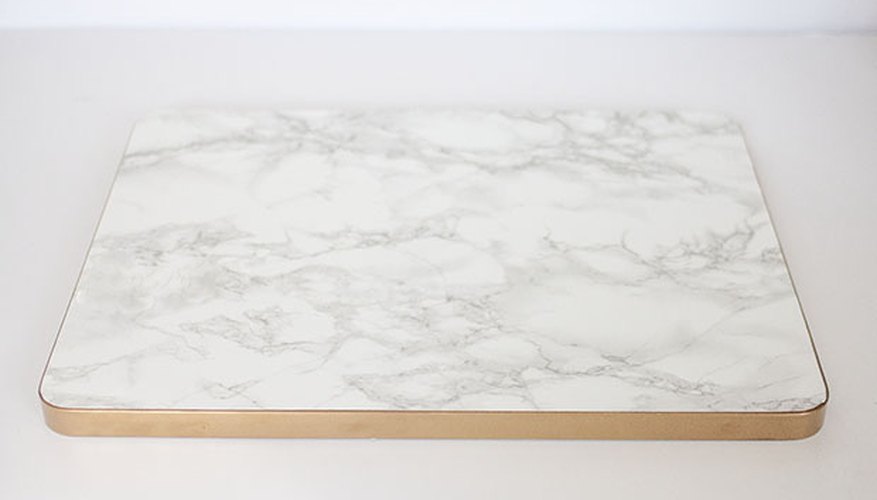 Finally, with the marble contact paper in place and the spray paint dry, use a screwdriver and the original hardware to reassemble the pieces.
Step 8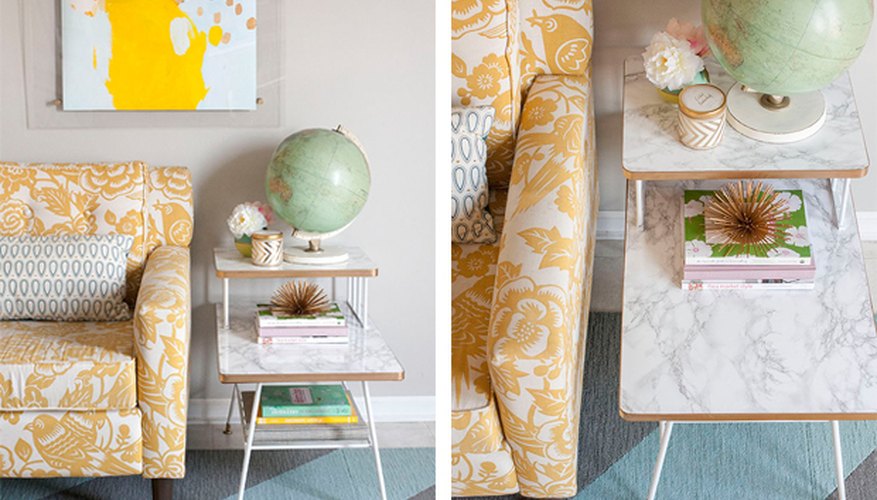 Thanks to just a few inexpensive supplies and on-hand materials, you can completely refresh a mid-century side table and gain the envy of your style-savvy family and friends.
Things You Will Need
Mid-century side table
Screwdriver
Rubbing alcohol
Microfiber towel
Drop cloth
White spray paint
Gold spray paint
Marble contact paper
Razor blade
Warning
Always wear a face mask when using spray paint.